Two e-mails arrived in my inbox recently that merit dissection. They're from two competitors – Oracle and Netsuite, respectively – and both promote Webinars that are thinly disguised versions of "Why You Should Buy Our CRM Product and Not Our Competitor's". Topic aside, however, I'd wager that head-to-head the Netsuite version would draw a much higher response. First, here's the e-mail from Oracle: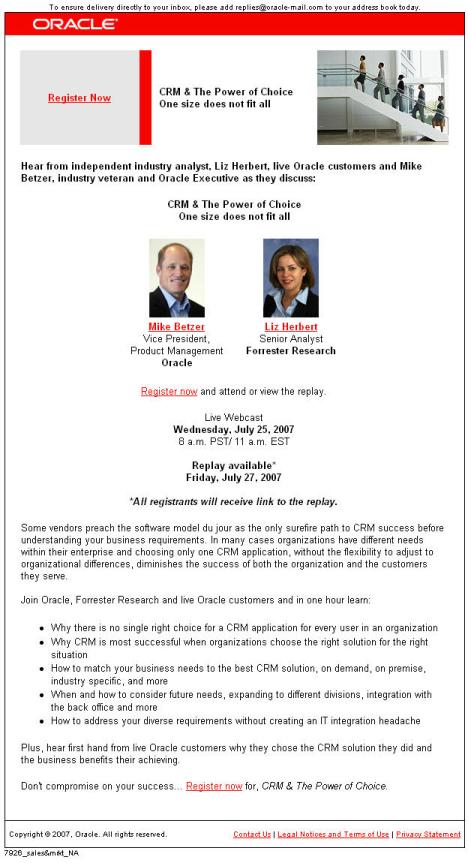 There's so much that's wrong here it's difficult to know where to start. Easily the biggest crime is the fact that you're forced to scroll down three-fourths of the length of the e-mail to have even the faintest whiff of why someone would want to attend the event in the first place.
When an e-mail displays in the recipient's preview screen, you have only a split second to convince that reader to open the e-mail and read further. Here, Oracle has chosen to utilize precious real estate – the very top of the e-mail – for an unsightly box ("Register Now" – a little premature when I have no idea what the event is about), the title of the event (more about that below), and a generic stock photo that has no relevance to the topic.
The title of the event is particularly egregious: "CRM & The Power of Choice: One Size Does Not Fit All". If I attend a Webinar, I want at least a hint in the title of what benefit I'll glean from the event. There's no benefit here – just a sense that I'm about to be lectured by Oracle on what not to buy. No thank you.
I'm a big fan of including speaker photos in invitations – it makes the event more "real", more credible – but not this way, when the photos dominate the entire e-mail, and push the more critical selling copy well below the "fold".
Oh I could go on and on:
Promoting a replay to be available two days after the live event and destroying all urgency for attending the event in the first place …
Weak selling copy: "Why CRM is most successful when organizations choose the right solution for the right situation" (wow – really?) …
and my personal favorite: "Hear first hand from live Oracle customers why they chose the CRM solution they did and the business benefits their (sic) achieving."
Ouch.
In marked contrast, here's the invitation from Netsuite: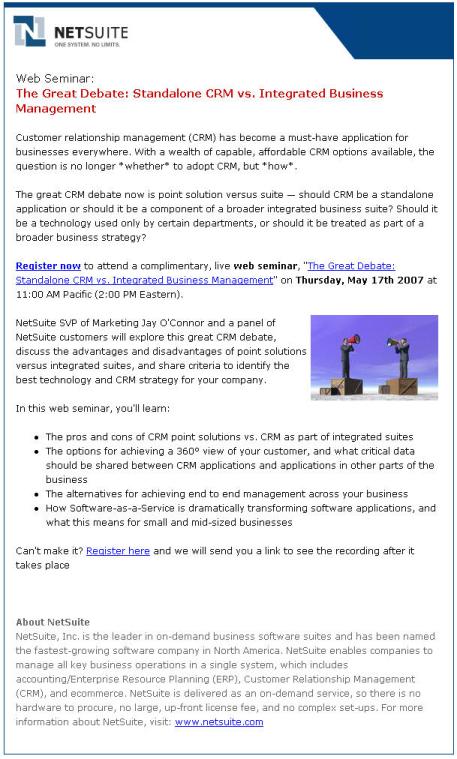 First, note the absence of gratuitous stock photography and other useless design elements that only display as white boxes in Outlook anyway. The look and feel is simple, yes, but also professional, consistent with Netsuite's brand, and most importantly: functional.
The title isn't much better than Oracle's, but at least it's informative, and detailed enough that I get an immediate sense of what I'm likely to learn.
The invitation launches immediately into selling copy, but it could be improved. The first two paragraphs "set up" the invitation by describing the decisions facing businesses when it comes to choosing a CRM solution. This is a classic "so what" opening – telling the reader something he or she already knows (see "two common e-mail copywriting mistakes"). I'd much rather see a strong, benefit-oriented statement: "In just one hour, learn the secrets to choosing the right CRM solution for your company" or similar.
But I'm nitpicking. The selling copy is followed by a clear and strong call to action, a description of the event, and some well-written (and correctly spelled!) bullets. Stock photography makes its obligatory appearance, but it least it's not forcing copy down the page. Again, I'd replace it with a photo of the speaker.
Netsuite also offers the option of viewing a replay, but they don't mention when the replay will be available, and somehow the copy doesn't lose its urgency as a result. It's just one more reason to register immediately.
There's potential for improvement here, but overall, this is a well-written, well-designed, invitation created by marketers who understand e-mail as a creative medium. Well done.
Learn the most common e-mail missteps, and how to avoid them. For a free copy of our white paper, "Top 10 High-Tech E-Mail Marketing Mistakes", click here.