The email below from marketing automation vendor Eloqua is part of one of those rare B2B campaigns that combines email marketing best practices with an impeccably executed creative concept. In the process, what is otherwise a fairly straightforward "get your free report" lead nurturing program is elevated to a degree that allows it to really stand out from the clutter.
One of the things I admire most here is the extent to which Eloqua took a single, powerful concept: Juan Eloqua (an homage to the old Juan Valdez Colombian coffee ads) and wove it so cohesively throughout the creative.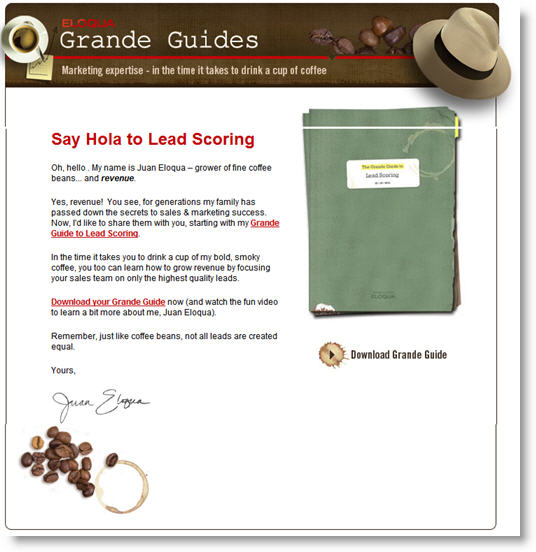 When most B2B marketers "get creative" with email they usually rely on subject line, headline, and maybe a handful of graphic elements. In this email, however, nothing escapes the creative treatment, not the "from" field (Juan Eloqua), the name of the offer (Grande Guide), even the download button. In particular, take note of the offer image (the green file folder): it's easy to forget how important the offer is in these campaigns, and by extension the importance of making the offer image "real," tangible, and compelling. Would the photoshopped cover of a white paper have anywhere near the same effect here? Absolutely not.
The response microsite continues the theme seamlessly, adding a textured background (one that would be awkward in the email) and a video of Juan himself. On the microsite, note the gray squares at lower left: Eloqua intends to roll out a sequence of campaign offers over time, but each offer is only available upon being launched.
Eloqua's software makes possible some fairly sophisticated marketing, but – on the surface, at least – this campaign doesn't depend on technical bells and whistles. Just a bold concept (bold yet smooth, you might say) – executed brilliantly.
For more tips on effective email design, download a copy of our free white paper: "Top 10 High-Tech Email Mistakes."