Newly updated, revised, and now available for the first time in convenient ebook format: The High Tech Direct Marketing Handbook. Download your free copy here.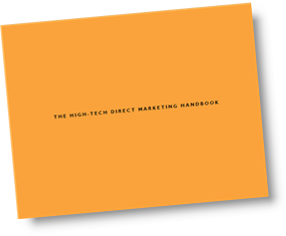 This is the 5th edition of the handbook, a compilation of 65+ tips and techniques on direct marketing strategy, creative, offers, media, and just about everything in between.
Here's some of what you can look forward to:
* How to get resellers to respond to your campaign (Page 6) …
* The #1 secret for improving lead quality (Page 9) …
* 5 simple ways to stretch your Google budget (Page 14) …
* 5 keys to getting started in lead nurturing (Page 16) …
* How to name your next white paper (Page 21) …
* Top 5 tips for Webinar invitations (Page 31) …
Supplies are most definitely not limited. Comments welcome.