One of the first questions I ask any prospective technology client is the following:
"Imagine your product on a spectrum. At one end of that spectrum are commodity products – CRM, for example – people know these products exist, they understand the problem that the products solve, and they recognize when they have that problem.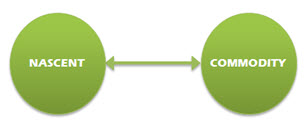 At the other end are products in a completely nascent category – people have never heard of the product, they don't know this type of product exists, and they may not even know they have the problem in the first place. Which end of the spectrum are you closer to?"
How a company answers this question tells me a great deal about two things:
1. Whether that company should predominantly use inbound or outbound marketing;
2. The type of content most likely to work best for demand generation.
I'll explain: Read More »