Marketing software research firm Software Advice have released their 2014 B2B Demand Generation Benchmark Report, a handy reference for anyone planning 2015 marketing spend. Based on responses from more than 200 BtoB marketing professionals, it provides useful insight on the types of demand gen programs and content that are trending in the marketplace. (You can access the complete report on the Software Advice blog – no registration required.)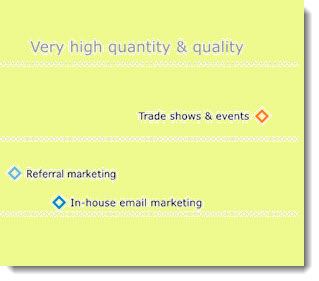 As with any research report, however, it's wise to look at the data, and the conclusions drawn from that information, with a critical eye. In this case, to their credit, the analysts at Software Advice are candid about their sample population (mostly large companies) and where their results align with, or depart from, other recent industry research. However, they also draw some fairly dramatic conclusions from the data that, in this view of this writer, don't stand up to closer scrutiny.
The conclusion that most caught my eye is the one that titles this blog post. To quote the report, "Trade shows were most commonly cited as generating both the most and the best (leads) …" And indeed, the data supports that observation: 77 percent of respondents said that trade shows generated either "somewhat" or "very high" quantities of leads, and 82 percent said that trade shows generated leads of either "good" or "excellent" quality.
The report, however, goes further – ranking trade shows as far and away the most effective demand gen channel in their "BtoB Channel Effectiveness Quadrant," surpassing (by some margin) even demand gen workhorses like email marketing and PPC. And here's where I think that analysis goes astray: Read More »