This Webinar invitation from IBrix, a developer of software-based file-serving solutions, arrived in my inbox recently. Alas, it reads more like an abstract for a thesis presentation than a compelling sales event. Here are the all-too-common pitfalls the invitation so painfully illustrates: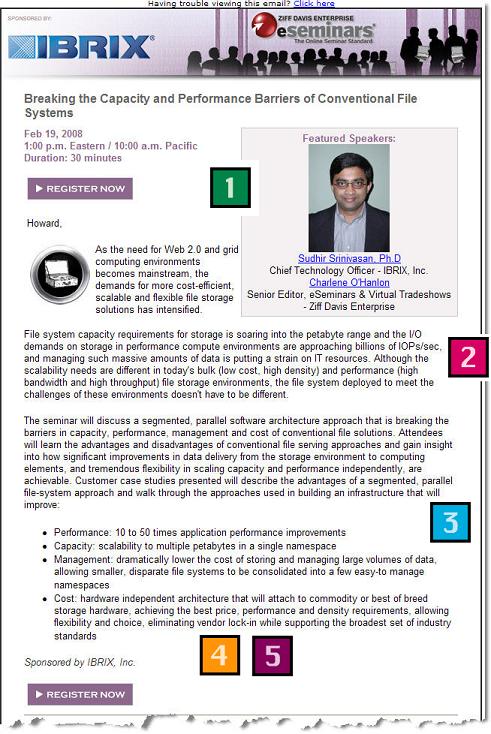 1. Don't place speaker photos and gratuitous clip-art in too prominent a position, such that they force more vital selling copy below the fold.
2. Don't waste the critical first two paragraphs of your invitation telling the reader about the state of the universe; instead grab the reader early by describing what he or she will learn by attending the Webinar.
3. Don't call them "customer case studies." That's marketing-speak. Call them "compelling real-life accounts demonstrating how [insert benefit here]."
4. Don't list "Performance", "Capacity", "Management", etc. as features and expect the reader to grasp immediate value. State all features not only as benefits, but learning benefits associated with the event itself, for example: "In just 45 minutes, learn how to increase application performance by up to 5,000 percent …"
5. Provide some detail as to how the event will be organized. You don't need to include an agenda necessarily, but the reader should at least be able to glean a rough idea of how his or her 45 minutes will play out. Without that detail, most readers will assume they're signing up for a sales pitch.
For more ideas on how to improve Webinar response, see our new white paper: "Top 10 Tips for Webinar Invitation Success."