A few weeks ago my wife and I took our two children to Disneyland for the first time in almost a decade. Two things made the trip markedly different from our last visit: one, no stroller, and two, cell phones. Cell phones are omnipresent at Disneyland. As far as I could tell, the only people not looking at a mobile device were those carrying churros (churros, for those not familiar, are a very portable and highly addictive Mexican doughnut.)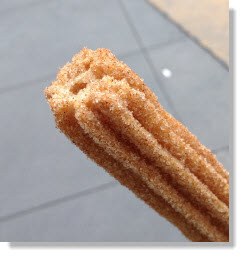 However, one of the essential charms of the Magic Kingdom is that many things don't change. Guides still tell corny jokes on the jungle river cruise. Lines are still long (even in February, on Super Bowl Sunday.) The food has improved marginally but is still high-priced and faintly institutional.
Disneyland is also a weird tapestry of finely-tuned systems (the general cleanliness, the way lines snake back and forth to provide the illusion of progress) interwoven with paper-based procedures of almost prehistoric inefficiency.
Take, for example, Fast Passes. To receive a Fast Pass ticket – assigning you a specific window of time for one of the more popular rides – you first need to find the kiosk that dispenses those tickets, and then insert your park entrance ticket into the machine in order to receive the fast pass (ka-CHUNK) telling you when to return. (Not to the same place, naturally, since fast passes are never redeemed at the same location where they're issued.)
It's all so very quaint. In 2014, it's also ridiculous.
On Super Bowl Sunday, likely a quiet day for Disneyland, there were 40,000 people at the park. (I know this because the churro lady told me.) My best guess says that 20,000 were in possession of a mobile device. Yet, as far as I can tell, Disney is doing absolutely nothing to leverage the fact that, on a quiet February Sunday, 20,000 mobile devices walk through their front door.
On our last night we wandered to a distant corner of the park to find a barbecue restaurant that (my paper map informed me) was hidden somewhere in the vicinity of Frontierland. Eventually, we had to waylay a Disneyland employee for help. Wouldn't you suppose, in this day and age, that just maybe I could have a mobile app point me in the right direction? Sorry, not so much.
And it's not simply about efficiency and making the park-goer's visit smoother and more user-friendly. Towards the end of our stay, the marketer in me started to contemplate the vast promotional opportunity that goes untapped at Disneyland due to a lack of any apparent mobile strategy. Was I ever encouraged to "check in" at any of the park's restaurants or rides? No. Were there gentle reminders cajoling me to share my family snapshots with my Facebook friends? No. Did I "rate" or comment on any of the attractions during our visit? I did not.
Just think of the millions of tweets, likes, shares and other free publicity that goes unrealized every year. I recognize that part of Disneyland's charm is the careful maintenance of a certain 1950s aura, but does that require adherence to 1950s technology?
If the nice folks at Disney read this, herewith is my feature request list for the "Official Disneyland Mobile App":
1. Direction finder to any ride, restaurant, shop or attraction.
2. Daily news alerts telling me which rides are closed for maintenance.
3. Weather forecasts.
4. How many people are at the park.
5. Make recommendations based on the age group of our party and what kind of rides we say we like.
6. Tell me which rides are the least busy at any given time.
7. Let me rate and review any ride, restaurant, shop or attraction (and then make recommendations for what else I'll enjoy based on those ratings.)
8. Let me "check in" at any attraction.
9. Follow my phone around the park and then remind me which rides I haven't seen yet.
10. Tell me the accurate wait times, and fast pass return times, updated by the minute, for all rides. (Yes, there are third party apps that do this, but I found them unreliable.)
11. Occasionally reward people like me who tweet, like, or share photos with a #MagicKingdom tag by sending me a coupon for a free souvenir.
12. Send special deals to my phone when I'm in the vicinity of a particular shop (or churro stand.)
13. Scannable mobile tickets and fast passes (like boarding passes for air travel) and audible reminders when my fast pass window is approaching.
And while you're at it, free wi-fi please. And charging stations. You're welcome.