I only recently came across the results of research published late last year by Leads360, a leading provider of hosted (SaaS) solutions for managing sales leads. In their August 2010 report, "Building the Optimal Inquiry Response Strategy," Leads360 use the data collected to make some startling claims, amongst them the following:
"The findings of this study strongly suggest that calling 3 times during the first day, once on day 3, again on day 4, and a 6th and final time on day 11 or 12, is the optimal call attempt strategy."
One question: are they mad?
Never mind the business case for such a heavy-handed approach, how would you feel personally if you received 6 phone calls over less than 2 weeks in response to an innocent sales inquiry? Call me a data point of one, but the company that makes those phone calls to my desk is someone with whom I'd never want to do business. Ever.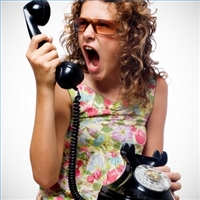 Leads360 base their conclusions on studying more than 20 million leads. They claim that "contacting potential customers six times is the best way to maximize conversion rates without overtaxing staff resources." (emphasis mine)
One caveat to this research is that it's based primarily on consumer sales leads, though anecdotally I haven't found consumers any more tolerant of repeated sales calls than businesspeople. Ironically, however, I actually believe the data that Leads360 presents, and the conclusions make sense if only based on a strict interpretation of the facts, namely:
If all you ever do is contact sales leads by phone, you'll need to call people six times before you either make successful contact or wear out the patience of even the most energetic sales rep.
However, here's where I think the argument falls apart. In an era of marketing automation and automated lead management, you don't have to rely solely on phone calls to follow up on leads. And to the extent you rely on telemarketing exclusively, your lead management will be less effective and your sales productivity will suffer.
As I argued in an earlier post, effective lead management – or, as Leads360 would term it: optimal inquiry response – is best constructed as a balance between the human element (phone calls from a live sales rep) and technology (automated, triggered emails tailored to a prospect's interest, demographics, and behavior.)
Not only does incorporating automated lead management (powered by marketing automation) into your lead follow-up strategy ensure a more consistent, timely response to inbound leads, it also allows you to dedicate more expensive human capital to those leads that, by virtue of automated lead qualification and profiling, are deemed more worthy of personal intervention.
It's also a documented fact that, to an increasing degree, both consumers AND businesspeople don't respond to phone follow-up or even voicemail, so using email in combination with telemarketing virtually guarantees a higher engagement rate. Call it impersonal, but I maintain that doing so is in large part a reflection of the world we live in and how most people communicate.
And therein lies my point. Making 6 phone calls to any sales lead over a period of 12 days, in the absence of complementary and automated email follow-up, is simply a waste of valuable sales time and an ineffective way to respond to leads.
Are there any circumstances when 6 calls in 12 days makes sense? Comments welcome.