Tony Karrer and Tom Pick, founders of the popular B2B Marketing site B2B Marketing Zone, just released a compelling report on B2B Blogging Trends in 2011. The 42-page white paper includes insights from industry thought leaders such as Ardath Albee, Jay Baer, Kristin Zhivago, as well as yours truly (see Page 13).
My contribution is reproduced (with permission) below. For a copy of the complete report (no registration required), click here. In addition to tips, ideas, and opinions from some of the brightest minds in social media, the report also includes links to more than 60 articles and blog posts about blogging strategy, tactics, and best practices for B2B Marketers.
***
2011 may be the year when B2B companies finally realize blogs are more than just a PR vehicle for propagating so-called thought leadership. Specifically, smart B2B marketers will wake up to the fact that blogs can also be prime sources of a) search traffic, and b) net new sales leads.
Here are 3 key principles we preach to our blog clients: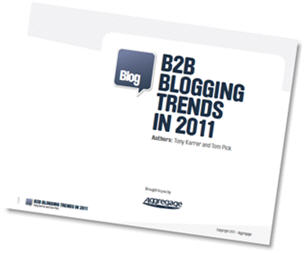 1. Title blog posts with Google search results in mind. Ask yourself – if someone saw the title of this post and nothing more, would he/she want to read more?
2. Forego standard, out-of-the-box sidebar widgets like tag clouds and "categories" in favor of content that actually gets people to engage with your company – for example, links to gated content like white papers and archived webinars, labeled as "additional resources."
3. For pete's sake, make sure it's easy for someone to subscribe to the blog. Provide options for RSS, Twitter, and email and place them prominently where the casual visitor can see them. The more subscribers you generate, the more your blog becomes a way to nurture and cultivate potential customers.
Reproduced with permission from B2B Blogging Trends in 2011, © 2011 Aggregage.