An average conversion rate for a B2B landing page, if you believe the people who claim to measure such things, is around 4 percent. Conversion rates for organic traffic to a corporate Website may be as high as 10 percent or more. But even at those lofty standards, fully 90 percent of Web visitors remain anonymous. Put another way, as many as 90 cents of every marketing dollar will fail to generate a measurable, actionable lead.
Helping companies tap that 90+ percent of unconverted Web traffic is the focus of Demandbase, a marketing database and technology company based in San Francisco. I had the opportunity recently to learn more about Demandbase solutions, and came away intrigued by the potential their service offers for B2B marketers looking to squeeze a better return out of Web traffic, and in the process, make their demand generation dollars go further.

Demandbase was initially founded as a different way for companies to acquire business contacts, and their massive contact database remains the underlying platform for a newer range of enhanced services. Their Demandbase Standard service enables B2B marketers to acquire contacts on-demand from that same database, comprised of names tapped from a variety of industry sources, then cleansed and de-duped to form a list of what the company deems to be the most relevant contacts for B2B advertisers based on their target profile.
Where it gets more interesting is with Demandbase Professional. This enhanced service captures the IP address of Web visitors (achieved by adding 2 lines of Java script to relevant Web pages) and then maps that IP address to companies and contacts in the Demandbase database, instantly identifying not only companies that visit the Website (a feature already shared by solution providers such as LeadLander, Marketo, Eloqua and others) but also the most relevant contacts from that company. Furthermore, Demandbase filters contacts based on client profiles, enabling you to zero in on the most relevant job function for your product, for example, or exclude companies (even if those same companies are visiting your Website) that otherwise don't fit your target profile by virtue of industry, say, or number of employees.
Available by monthly subscription, Demandbase Professional includes a dashboard to track visitors and a credit for buying relevant contacts through the Demandbase database. A further add-on, Demandbase Stream Professional, works like a stock ticker to show marketers which companies are visiting their Website in real time. Click on a company name (see screen shot below), and the service also displays the search phrase (if applicable) the visitor used to reach the site, and the most relevant contacts from within that company.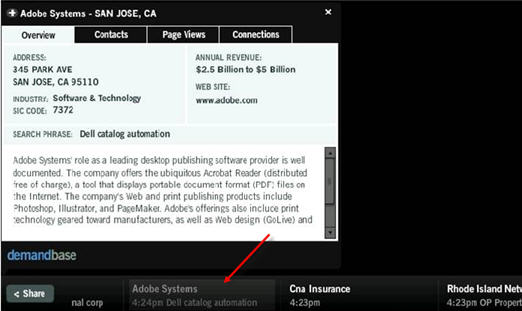 Say you're spending thousands of dollars each month advertising on Google. A mere four percent of the clicks you pay for end up as leads. What if you could identify all the companies that clicked on your ads, filter that list down to the organizations that meet your target profile, and generate a list of the most relevant contacts at those companies? Even if you don't feel those contacts merit immediate sales follow-up, you could plug them into a marketing automation system like Marketo and trigger a multi-step lead nurturing program. (Marketo and Demandbase recently announced a partnership through which Marketo customers can purchase Demandbase contacts directly from within the Marketo interface.)
You could also use Demandbase to measure traffic quality by campaign – for example, which marketing programs (or lists, or ads, or media venues) generate the traffic (not just leads) that most fits your target profile.
At a time when every B2B marketer is looking for ways to make his or her demand generation dollar work harder, Demandbase offers an innovative way to, in effect, increase the response rate from every campaign by generating leads even if respondents don't fill out a form.
Demandbase is offering free accounts that include a $20 credit towards the purchase of business contacts. For more information, click here.