Do a quick Web search on "lead nurturing" these days, and you'll find plenty of high-level, strategic content on the "whys" – how nurturing can improve demand generation ROI, increase conversion rates, accelerate sales cycles, recycle long-discarded prospects, etc. What's far less common and much needed, however, is practical advice on the "hows" – nuts and bolts tips for how to design and structure a lead nurturing campaign.
It's a void that the good folks at Marketo must have noticed because they've just released "The Definitive Guide to Lead Nurturing," a 38-page ebook that provides a useful resource to anyone who's either considering lead nurturing, or has the tools in place but is wondering where to begin. The book is being released free of charge and without registration (as a series) on the Marketo Website starting today, but you can also register to download the entire book immediately.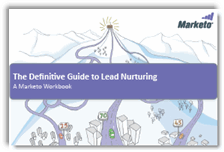 Topics covered include:
* the four basic types of lead nurturing campaigns
* how to establish permission for nurturing
* segmenting campaigns based on buyer roles and stages
* calculating the ROI of lead nurturing
The ebook also includes worksheets that you can use to sketch out your own campaign, along with illustrations ("How Marketo Does It") of how Marketo as a company practices lead nurturing using the principles described. Lastly, and to Marketo's credit, very few of the techniques seem conditional upon functionality specific to Marketo software, so the ebook should be just as practical for companies using other marketing automation solutions.
It's important to note (and Marketo doesn't claim otherwise) that no workbook can ever design a lead nurturing strategy for you in total, that no one lead nurturing campaign is like any other, and that every organization has their own set of variables – audience, buying cycles, offer content, sales infrastructure – that demand a unique approach. Still, this ebook is a useful starting point, and gives companies a valuable resource for getting the most from their lead nurturing initiatives.
[Full disclosure – Spear is an authorized Marketo agency partner. We design, set up, and deploy turnkey lead nurturing programs, conduct lead nurturing audits, as well as advising clients on best practices, email and landing page creative, offer strategy, frequency and workflow, and all facets of lead management. Contact us for a free backgrounder on Spear's lead management practice.]