Companies are tying themselves in knots trying to figure out how to best leverage Facebook for driving customer engagement. The core obstacle, of course, is that Facebook is ultimately a network designed for connecting friends, not customers.
Here's an example of one organization, a credit union, trying their darndest to negotiate their way around the Facebook marketing conundrum. Personally, as a consumer and a member of this particular credit union, I feel the campaign fell flat. Professionally, as a direct marketer, however, I'm conflicted.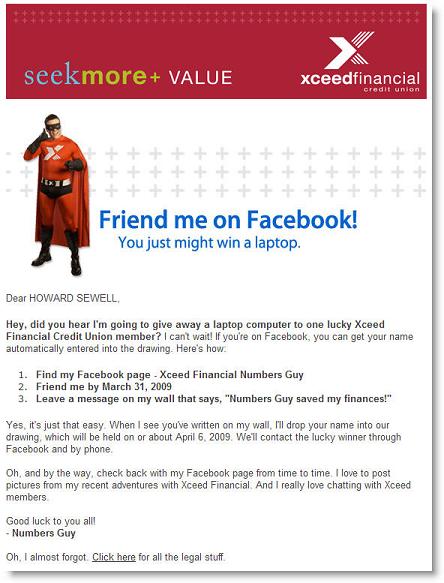 On the one hand, you have to admire the novelty of the approach. "Hey, if Facebook is about connecting people, let's make our company a person!" On the other hand, I'm left wondering why anyone would friend this individual, besides the chance of winning a laptop. Plus, do I really want to be seen befriending a credit union, never mind a character named "Numbers Guy"? I recognize that when you join Facebook you check your self-respect at the door, but even then, this seems like asking a lot.
Moreover, a credit union is a community, much more so than a bank or most other companies or institutions you do business with. My question is: Why bother with Numbers Guy at all? Why not simply create a group for credit union members, fans or otherwise? Instead of the gimmickry, make the Facebook group a gathering place, a forum, a place to ask questions and share information. Make the benefits of joining the group genuine and information-driven ("Be amongst the first to learn about mortgage rates, promotions, and special offers …") Wouldn't that be more compelling?
What do you think? Comments welcome.