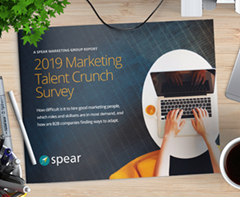 A recent survey of B2B companies finds that most are struggling to find and hire marketing talent, particularly in technical roles such as marketing operations. Results from the survey, conducted by Spear Marketing Group, also concluded that marketers are rapidly adopting a more flexible hiring model, including remote employees, contractors, consultants, and agencies, to help fill the gap created by what Spear calls a "talent crunch."
The infographic below summarizes some of the key findings from the survey. More complete results – along with expert analysis and strategies for success – are included in a comprehensive, 19-page "2019 Marketing Talent Crunch Survey Report," available as a free download from the Spear Website.
Click here to view infographic full size.