A new report from Forrester Consulting, commissioned by marketing automation provider Silverpop, offers little in the way of groundbreaking insights, but does provide plenty of data confirming what most already know: that many companies are failing to realize the true potential from their investments in marketing automation.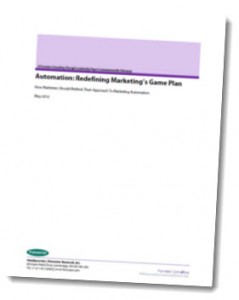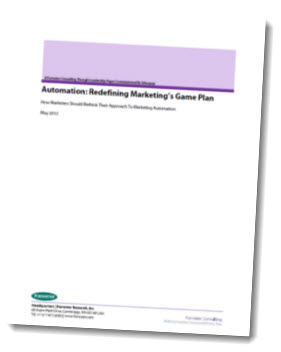 In the report, "Automation: Redefining Marketing's Game Plan," Forrester details the results of a survey of 155 US-based senior marketing professionals on their use of, results from, and attitudes towards marketing automation. To those of us who work in and around marketing automation every day, none of the results are startling. However, in sum, they do reinforce some key facts, namely:
• Most companies who employ marketing automation are realizing only a fraction of its potential because they tend to focus the technology on improving efficiency and addressing tactical needs
• The keys to marketing automation ROI lie not in features but in strategy, collaboration, metrics, and the development of more sophisticated, multi-touch, triggered campaigns
Forrester maintains that most marketers invest in marketing automation with the goal of increasing marketing efficiency – i.e. doing more with less. However, the study also finds that this focus on efficiency can blind marketers to marketing automation's true strategic value, what Forrester describes as: "improving lifetime value, building dialog with customers, and increasing collaboration."
This observation is consistent with our firm's experience working with many marketing automation customers who, a few months into their deployment, find that their use of the technology is falling far short of the vision that compelled them to take the plunge. The issues that drive that frustration, as Forrester confirms, is very seldom the technology itself, but rather a lack of planning, process, and more sophisticated campaigns and metrics. Indeed, according to the report:
• Newer users of marketing automation tend to measure campaign performance by basic response metrics like email clicks, rather than more "downstream" measures like ROI and incremental revenue (as the technology allows them to do)
• Newer users focus marketing automation on driving customer acquisition, whereas more mature users leverage the technology's ability to impact on lead nurturing and customer marketing (e.g. cross-sell and up-sell)
• Newer users leverage marketing automation primarily for recurring, "batch and blast" campaigns (for example, monthly Webinar campaigns) whereas more mature users "make heavy use of multi-step and dialogue-based campaigns, using a combination of inbound and triggered outbound communications to deepen relationships with their prospects and customers."
"When we implemented (marketing automation) the first time, we jumped in without planning and found that it was not the best way to drive leads to sales." – Manager of Email Marketing, Large Online Retailer
As with any technology investment, there will always be pressure with marketing automation deployments to demonstrate a short time to value. Unfortunately, that pressure can steer marketers into a premature focus on mere process efficiencies and basic, tactical campaigns. Instead, the true secrets to marketing automation success are:
• Planning – creating a formal vision and plan for what you want marketing automation to achieve
• Processes – designing and deploying lead management processes that take full advantage of the platform's capabilities
• Campaigns – moving beyond tactical, "batch and blast" campaigns to more tailored, triggered, multi-touch campaigns that build relationships with prospects and customers
• Metrics – putting in place reporting and analytics that show true business value, not just response rates
• Collaboration – integrating other departments, notably sales and customer service, into the planning and design of lead management and customer communications strategies
You can download a free copy of the Silverpop/Forrester report here.