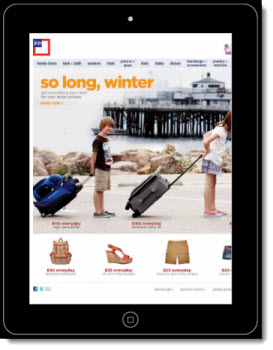 The 2012 Email Design "Look Book" from email marketing solution provider Responsys is a useful resource for email designers, creatives, and marketers alike looking for new ideas and inspiration to keep their campaigns fresh and engaging. It's also refreshing to see a technology company like Responsys dedicate so much (virtual) ink to the artistic side of the email marketing business, an aspect that often plays second fiddle to issues and best practices concerning data and technology.
The Look Book is a collection of 20 email designs, campaigns that were judged to be "at the leading edge of design, messaging, coding, and strategy." One caveat: almost all the designs featured are B2C campaigns, but that doesn't mean that we B2B marketers can't embrace some of these same techniques for our own initiatives.
Some of my favorite ideas included:
* extending personalization into the main email image (Pizza Express, Helzberg Diamonds)
* responsive designs that adapt instantly to the reading device, either full-width for desktop users or a streamlined version for mobile devices (REI)
* horizontal-scrolling formats designed for reading on tablets (JC Penney; see image at right)
* cinemagraphs (GIFs where only a small portion of an image is animated) (Lululemon)
* offering an online quiz to re-engage with inactive subscribers (B&Q)
* a calendar format that pairs product advertising with fun facts and illustrations (Madewell)
You can download a free copy of the Look Book here. Do any of the campaigns strike you as particularly effective? Do others leave you scratching your head? Share your thoughts in the comments below.