Occasionally a good concept gets lost in the execution. Take this recent e-mail from Symantec as an example.
What I like about this campaign, besides the eye-popping color scheme, is the overall concept. Symantec could very easily have prattled on about the merits of their product, but instead they've couched those same benefits in the context of an interesting offer: the "Endpoint Security Challenge."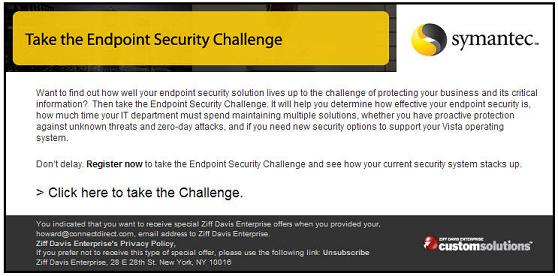 No-one wants to be pitched on replacing their current IT security infrastructure. But a free opportunity to learn its potential vulnerabilities? Sounds attractive.
However, from there it's all downhill. What Symantec fails to do is to effectively sell, or even describe, the offer. How long does the challenge take? What will I be asked to do? Do I have to install anything? What data will I receive as a result of taking the challenge? How will I receive that data (in a report, for example)?
In short, where's the beef? There's no information whatsoever about the user experience that the "challenge" delivers. Sure, there's a half-hearted effort at outlining the business benefits of doing so (more on that below), but nothing that even attempts to describe what I'll receive in concrete, tangible terms for giving up my precious time. (Not that I know how much of my time I'm being asked to surrender.)
Furthermore, the stated benefits of accepting the challenge (the "what you'll get") are, frankly, anemic. Even the most naive reader will recognize that learning "how much time your IT department must spend maintaining multiple solutions" is just a thinly disguised invitation to dump your current solution and put all your money with Symantec. Same goes for learning "if you need new security options to support your Vista operating system." (You mean Symantec wants to tell me whether I need to buy new stuff? Imagine that.)
Unfortunately, it gets worse. The landing page is generic in the extreme, and onerous to boot: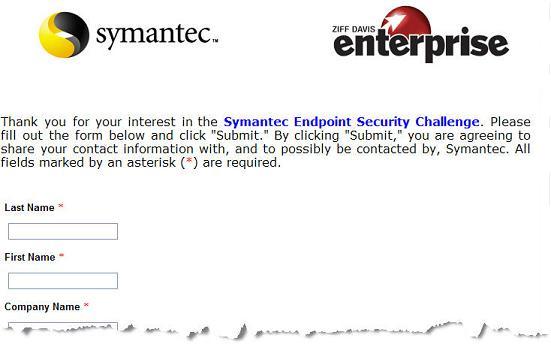 There's no reinforcement of the offer, no re-stating of the key selling benefits (were there any), every field is required (even mailing address), and what copy there is couldn't be more of a turn-off: "By clicking "Submit," you are agreeing to share your contact information with, and to possibly be contacted by, Symantec. All fields marked by an asterisk (*) are required."
Hoo boy. Sign me up.