A good creative brief is the foundation for an effective marketing campaign. In the face of deadlines, however, and at the normal, torrid pace of modern marketing, creative briefs are often viewed as an extra step, an annoyance, and an unnecessary obstacle to getting content in market.

Why are briefs so important? One word: alignment. A good, concise creative brief ensures that all stakeholders — creatives, sponsors, partners, sales, those who will be reviewing and approving copy and design — are aligned and agreed on the key tenets of the campaign, in particular:

* goals and objectives
* target audience
* key messages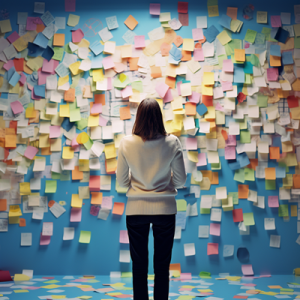 Sure, you can align on these topics in creative review. But if you delay those discussions until later, when your creative team or agency has already invested time in copy decks and design layouts, you risk delaying the project more than had you started with a solid brief. (It's quicker and easier to revise a key message in a creative brief than when it's a headline in layout.)

An ideal creative brief should be 1-2 pages, no more. It's called a brief for a reason. A brief is not just a box-ticking exercise; it's a blueprint for creativity. It should inspire and guide your team to deliver work that looks good, sounds right, and achieves the desired business objectives. It also streamlines and accelerates the creative process because key decisions have been made early, and so differences of opinion are resolved more quickly. ("Sorry, that's not what the creative brief says.")

Here are 10 critical items to include in your creative brief to set the stage for a successful campaign:
* Project Overview: Begin with a high-level summary of the project. What are you hoping to accomplish, and why is it important?
* Objectives & Success Metrics: Be clear about what the project should achieve. Are you increasing brand awareness, generating leads, driving sales? How will you define and measure success?
* Offer/Call to Action: What are you asking the audience to do? Register for a Webinar? Download a white paper? Sign up for a trial? Does that offer exist today or will new content need to be created?
* Target Audience: Who are you trying to reach? What do you know about that audience? Include demographics, psychographics, and any insights into their behaviors, preferences, pain points and motivators, including persona definitions if they already exist.
10 Must-Haves for Your Next Creative Brief
Click To Tweet
* Key Message: What is the single most important thing you want to communicate to your audience? How will the offer or content assets reflect or deliver that same message?
* Deliverables: List all the required assets — in as much detail as possible. Are you creating a display ad, an email, social media content, a web page? Specify formats and exact dimensions where possible.
* Budget & Resources: Outline the budget for the project and any assets available, like stock images or customer testimonials. Identify the internal or external resources (writers, freelancers, agency partners) who will have primary responsibility for creative development and project management.
* Deadlines: Provide a timeline with key milestones and a final deadline for the project and all deliverables. Ensure there's enough time for meetings, reviews, and revisions.
* Brand Guidelines: Include a link to the brand style guide: logos, color palettes, fonts, and any other brand-specific design and copy elements, including tone and style.
* Approval Process: Detail who will review creative, who gives final approval, and what the process will look like (including time required for review) to avoid bottlenecks or disappointments.
Shout out to Lynn Dodds, Spear's VP Creative Services, for her help with this article.