This week was my eighth consecutive Marketo Summit, all of them as a sponsor/exhibitor. The event has transformed since 2009, when the customer party fit (literally) onto a suburban restaurant patio. (For a more detailed recounting of those early events, read this great article on LinkedIn by Sandra Freeman.)
This year, more than 6,500 marketers, practitioners, and partners crowded into Moscone Convention Center in San Francisco for Marketing Nation Summit 2017. Our agency was a sponsor, so booth duty prevented me from taking in many of the educational sessions. But here are my main observations from the week.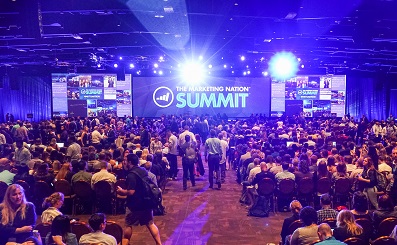 1. Marketo has their mojo back.
It's been a tumultuous year for Marketo since being acquired by Vista Equity Partners in late 2016. A new executive team made for plenty of new faces on stage and on the exhibit floor. It may be too early to say whether – or when – all the "sneak previews" of new functionality will come to fruition (most interesting to this audience member: something called "adaptive engagement"), but there's no denying a certain passion from the new crew.
New CEO Steve Lucas stood out in particular. For a 25-year enterprise software veteran, he exhibited more energy and excitement than many of the twenty-somethings he was addressing. (How many software CEOs can pull off the "Ninja Pose of Awesomeness"?) With Lucas at the helm, it's hard not to feel confident – and enthusiastic – about the company's immediate future.
2. Watch out: Branding is making a comeback.
The last two decades have seen a sea change in B2B marketing, much of it driven by data, analytics, and advances in marketing technology. B2B will be technology-driven for the foreseeable future, and yet many of the dominant themes of this year's summit were pure throwbacks. Think terms like "Authenticity" and "Storytelling." At times, the narrative read like a Joan Baez concert.
Even for this branding cynic (motto: "branding is what your agency calls something when they can't measure it"), it's hard not to believe that the b-word may be on its way back. A big driver for branding's resurgence is ABM (Account-Based Marketing), where the measuring stick is account engagement, and not the clicks and conversions that have been B2B's main currency for the last decade.
3. Email may be losing its B2B dominance.
CEO Lucas made a compelling argument in the opening keynote that prospective customers want "quality, not volume" in the content and messaging they see from vendors. "Volume, left unchecked," he continued, "can damage a brand." Yes, business buyers are tiring of automated campaigns and endless streams of emails, especially now that the power to launch automated campaigns is being placed in the hands of salespeople. (BDR spam, anyone?)
The solution being preached at the conference was for personal, relevant, authentic messages. But the answer also lies in a more multi-channel approach. Again, look at ABM. The companies showing early success with ABM aren't simply tailoring emails to individual accounts or buyers. They're incorporating sales outreach, social media, account-targeted display ads, and even (gasp!) direct mail. At the conference, I talked with a company called Sendoso that empowers marketers to send virtually anything, either digitally (a Starbucks gift certificate, say) or physically (a coffee mug, complete with handwritten note) as part of an automated campaign's defined workflow, through integrations with systems like Marketo, Salesforce, and Engagio.
4. ABM is reaching a critical inflection point.
In many ways, the rise of ABM is mirroring the journey of marketing automation from 8-9 years ago. Marketing automation also took off like a rocket but hit some bumps early on when practitioners realized that, to be successful, they needed more than just technology and technology consultants, but also strategy (what do I send to whom, when?), good content, and solid creative.
Now that the initial wave of ABM hype is subsiding, some early adopters are reporting the same challenges, albeit amongst a consensus that ABM is a revolutionary shift and a true game-changer for the right companies. ABM acceptance is now a given, but to deliver on the technology's promise, companies like Marketo and Engagio (and their partners, ahem) will need to help those customers execute. That's going to require more than just implementation and configuration, but counsel, best practices, and hands-on assistance with strategy (How do I select target accounts? What plays should I run?) and the wealth of content needed to support hyper-targeted campaigns.