As most PPC advertisers already know, Google's Quality Score measures what Google perceives to be the quality of your keyword ads. Every keyword in a campaign receives a quality score, ranked on a scale from 1-10, that, in combination with other factors – not all of which Google discloses – helps determine your cost per click (CPC), ad position, and other variables that contribute significantly to the success and cost-effectiveness of your PPC campaign.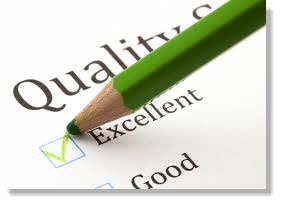 In short, the better your quality score, the lower your cost per click, the more likely someone will see and click on your ad, and the less you'll pay for that click. As with most things, Google doesn't disclose the precise algorithm by which quality score is calculated, but they do identify contributing factors – for example: expected click-through rate, the relevance of ad copy to the search query, and (notably) what Google calls "landing page experience".
Google also defines the key factors through which an advertiser can improve that landing page experience. Those factors are:
• Providing relevant, useful and original content
• Promoting transparency and trustworthiness
• Providing ease of navigation
You can determine whether or not a particular landing page needs help by going to the Keywords tab in your AdWords campaign and placing the cursor over the speech bubble next to the status of any keyword. If the landing page experience is designated "below average," there's room for improvement.
A couple of years ago, I wrote a post in this space listing "7 Tips for a Successful PPC Landing Page" – and most of that advice stands the test of time today. However, if there's one truth about PPC advertising, especially on Google, it's that the rules change constantly. So, for example, in that earlier post I wrote:
"Be cautious with customer logos, award icons, and gushing quotes of praise for your company or product. Testimonials of this type can detract from the primary offer and create the aura of a sales pitch for your company that runs counter to the information of value the reader is searching for."
It's still true that if your landing page has the aura of a product pitch, it may dissuade the prospect who is only looking for information, say: a white paper. However, in the context of quality score, you could argue that testimonials or customer logos "promote trustworthiness" and could therefore improve page position and lower cost per click.
Similarly, my earlier blog post also suggested that external links (to the advertiser's home page, for example) may lower conversion rates by providing an "escape route" that is contrary to the desired action, namely having the visitor complete a registration form. However, Google states that an additional factor in defining "transparency and trustworthiness" is making it easy for the visitor to find your contact information, something that might be perceived as a distraction from the primary Call to Action.
Here then are 5 simple changes you can make to your PPC landing page that, at least according to Google's own advice, should contribute to a higher quality score. Whether they do or not, you won't know for sure until you test. When you do, you'll also want to keep a close eye on conversion rate, because a lower conversion rate may wipe out any benefit to be gained from say, a lower cost per click.
1. Provide a full and complete description of whatever it is you're promoting – a demo, a white paper, a Webinar, a free download.
2. Include complete contact information for your company. (I'd recommend placing this information well down the page so it doesn't compete with the registration form.)
3. Make it abundantly clear why someone would want to complete the form, and what will happen when he does. If the person is signing up for a product demo, for example, will he be directed immediately to a recorded demo, or will a representative be in touch to schedule a one-on-one session?
4. Include a brief description of your company. Again, my recommendation would be to place the information below the fold in a way that it doesn't distract from the primary offer.
5. Include a customer testimonial, customer logos, award logos, or any other content that might improve the "trustworthiness" of your company.
Remember, only introduce these changes one at a time and run them as a direct A/B test against the previous (control) version of that same page. Only then will you be able to gauge whether or not the changes had the desired effect.