Paul Albright boasts a 30-year track record of success in Silicon Valley, including executive roles at companies such as Marketo, SuccessFactors, NetApp, and Informatica. As co-founder and CEO of Captora, Paul is now channeling his expertise into a new generation of marketing technology that captures and converts new buyers across inbound marketing channels.
I sat down with Paul recently to talk about his new company and where Captora fits into the ever-expanding landscape of marketing technology.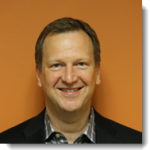 [HS] What's the key problem that Captora solves?

[PA] Captora quickly solves three of Marketing's biggest challenges:
1. How to add brains and reach to our customers' beautiful/brand-centric websites. Today over 70 percent of new buyers find your company via inbound marketing channels (search, advertising, social). Modern websites must be optimized for both brand and to capture new buyers before they find your competition. We make this happen immediately and then expand your website brand into new pools of purchase-ready buyers.
2. How to ignite your company's growth so marketing is filling your sales pipeline with more new buyers than needed to beat your future revenue goals…AND without increasing your cost per visit and cost per lead.
3. Content marketing is here to stay – how do you leverage your past content investments to ignite faster growth? What content do you have and what's the best content to leverage for each inbound marketing campaign? Where is your content rich and thin versus what's needed to grow faster? How does your content compare to your competition? What is the right content roadmap/investment strategy to grow revenue faster?
[HS] Why do you think that so much attention and technology and investment has been focused on the mid-funnel vs. the challenge of generating more and better leads in the first place?

[PA] If you think about how marketing has evolved, you need to get your back-office systems sorted out before you attack the top of funnel opportunity. Marketing automation and CRM have now become mature, so Captora can now attack the ineffectiveness across the top of funnel. The key is to do this in a new way – don't just tell marketing where they're falling short via diagnostic tools; instead, help marketing fix the problem.
I think we're on the verge of a new generation of Cloud Marketing applications that can identify and prioritize opportunities for new campaigns, then build and execute them – unleashing marketers to do more impactful things than coding or trying to do anchor text rotation and in-linking.
[HS] Content development has become such a critical part of a marketer's job. How does Captora help marketers get more from that investment, and also help them gauge which content really works?

[PA] Yes, content marketing is here to stay – but marketers need to break through all the noise with content that's optimized for each buyer's pain.
At Captora, we identify, create, and optimize hyper-targeted CaptureSites (hyper-optimized microsites) that dramatically expand the reach of search, advertising, and social marketing campaigns. In the process, we accelerate new leads, at a lower CPL, by engaging conversion-ready buyers before they've found your company (or your competitors).
Captora utilizes your content across inbound marketing campaigns to improve conversion rates (and lowering CPL) across long-tail organic and paid search campaigns. Captora shows where customers have deep content (and thin content) relative to their competitors. And we provide a data-driven content roadmap so our customers are clear about what content investments will fuel future growth.
[HS] I notice that you integrate with some of the leading marketing automation vendors, including Marketo and Act-On. Why would someone already using marketing automation look at Captora?

[PA]All of our customers have invested in marketing automation. Captora improves the value those companies get from their marketing automation investment. For example, Captora can pass hidden field information into your marketing automation product to automate your scoring and nurturing programs. Think of Marketo and Act-On as the system of record for contacts; Captora is the system of record for content and campaign execution across search, advertising, and social channels.
One of our Marketo customers told me that they see Marketo as a critical back-office system and Captora is all about fueling new inbound growth. We're excited to be partners with Marketo and Act-on – both are also Captora customers.
[HS] On your Website, you say that Captora delivers more leads and does "90 percent of the work." Should a demand generation agency like Spear be nervous?

[PA] Only if your people love doing horrid tasks like optimizing in-linking across all of your customer's web assets and manually testing content results by campaign, persona, and selling stage!
No, we're a SaaS application company and focused on delivering technology that changes marketing forever. Partners like Spear should love that Captora accelerates the impact of the great work you already do, and we can report the results in real-time so the ROI is clear.
Marketing has to scale and it's not about adding just people; Captora aggregates millions of digital demand signals from prospective buyers, then defines and creates new, launch-ready inbound marketing campaigns that leverages existing content across search, advertising, and social channels. Then we automatically leverage advanced testing techniques to drive continuous improvement of new campaign performance, ranking, and quality.
Captora is focusing on solving what's been impossible to do in the past. Marketing becomes the hero and becomes data driven. Our partners share our vision and together we will change Marketing's world for the better.
[HS] Thanks Paul!