Last week I was interviewed by BtoB Magazine for an article, "Webinars: Are They Worth It?" that appeared online today. The article contains some valuable insights on where Webinars fit in today's B2B demand generation mix, and is definitely worth a read.
As always, however, only a fraction of my original conversation made its way into the final piece, so here are some additional thoughts on the topic:
In the interview, I suggested that many companies rely too much on Webinars, often for the wrong reasons: 1) because Webinars don't require the tedious content creation process that a white paper demands, and 2) because their salespeople demand Webinars on the assumption that they generate "better leads."
However, in my view, relying too heavily on Webinars as a lead generation tool is simply setting the proverbial bar too high, and doing so can eliminate a large subset of prospects who may have a genuine interest in your product or service but just don't have the time or the inclination to attend an event.
When are Webinars a fit? The two scenarios where I think online events make most sense are:
1) where the value of the information presented is enhanced by live presentation – for example, a particularly well-known or dynamic speaker, or a product whose functionality doesn't translate as well to the printed page.
2) where the audience already has a familiarity with your company and product — for example, in marketing to customers, or partners, or to existing prospects, perhaps as part of a structured lead nurturing program.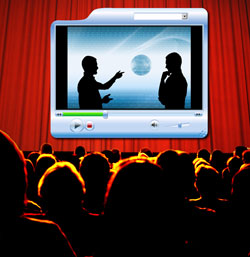 What's the most common Webinar mistake companies make? Simply put: not selling the event. Prospects will register for a Webinar because they believe that the information presented is worth a 45-minute investment of their valuable time. However, in too many Webinar invitations, the event itself is an afterthought. Instead, companies drone on about how wonderful their product is, and the Webinar is simply the call to action.
An effective Webinar invitation sells the event, not the product. And to the extent product benefits are part of the message, they should be expressed in the context of the event, for example: "In this exclusive online event, you'll discover how our new technology allows you to …"
Webinar leads can be more expensive than other vehicles, so measuring lead quality is critical. At a very basic level, Webinars should be measured on CPQL or Cost Per Quality Lead, by whatever standard your company measures "quality." Ultimately, however, the best measure for any marketing program is ROI: what is the return on one dollar in invested in a Webinar strategy as compared to that same dollar invested elsewhere?
Webinar ROI can be increased substantially by leveraging the event as an archived recording, made available for on-demand viewing. Our clients see tremendous returns by placing on-demand Webinars (available via registration) on their corporate Websites, or on third party content sites and ad networks.
For more information on how to improve response to your Webinar event, download a free copy of our white paper: "Top 10 Tips for Webinar Invitation Success."