I've written previously in this space about how to reduce unsubscribes by giving prospects and customers the option to update their contact information rather than forcing them to opt out of email entirely.
A further strategy for minimizing unsubscribes is to employ subscription management, a technique in which you, as the publisher, give the wannabe unsubscriber the option to choose which types of messages he/she wants to receive (or not receive, as the case may be.) This can be a useful option if some individuals want to continue to receive your newsletter, for example, but not Webinar invitations. Or if customers want to receive critical product updates, but not information on training classes.
Subscription management turns the act of unsubscribing from a simple Yes/No question to one of: "Which types of communication would you like to receive from us?" It prevents situations in which you may lose forever the ability to market to an individual because he/she happened to dislike one particular email. And it does so under the cloak of customer service, i.e. giving the subscriber the opportunity to choose the type of email communication most relevant to his/her interests.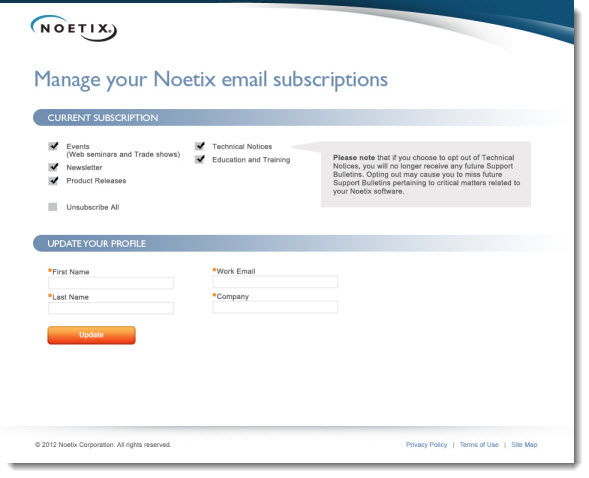 To the right is a subscription management page that we created recently for a software client, Noetix. When someone clicks on the "unsubscribe" link in a Noetix email, rather than landing on a simple Yes/No unsubscribe page, he or she will be pointed to this page offering an array of options to choose from, including "unsubscribe all."
Because the page is hosted in Marketo, a leading marketing automation platform, the person's email address, first name, last name, and company are all pre-populated, making it easy for the individual to update or correct outdated profile information.
In sum, subscription management is an effective way to reduce unsubscribes, increase response rates (by allowing subscribers to choose the emails that most interest them), and improve data hygiene. Maybe the people who unsubscribe from your emails aren't really saying "I don't want to hear from you again." Maybe what they really mean is "I'm not interested in this topic."
Time to give them that option.