Dave Brock wrote an excellent post recently ("I've Never Ever Sold a Computer or Piece of Software") on what technology buyers really buy. His point (crudely distilled) is that while most of us believe that customers are buying our products and services, in fact what they're really buying is more immediate and personal. Like the ability to keep one's job. Or the ability to get home at a reasonable hour.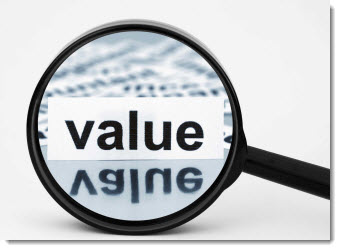 Dave's article was directed at salespeople, but he drives home an equally valid point for marketers. For those of us in the business of developing marketing campaigns, particularly when the pace of said campaign development is fast and furious, it's all too easy to fall into the trap of believing that all prospects really care about is the difference that our product or service can make to their business.
When actually, nothing could be further from the truth.
This same point was underlined by a recent study by Google, the Conference Executive Board (CEB) and Motista. Based on a survey of 3,000 B2B buyers, the researchers conclude that those who perceive personal value in doing business with a supplier are more than 3x more likely to make a purchase from that supplier, and about 8x more likely to pay a premium for the product or service. (You can download the complete study here – no registration required.)
That doesn't mean that business value is irrelevant. Far from it. In fact, the same study states that business value is a prerequisite for consideration. In many circumstances, however, personal value may be the differentiator, and even a primary factor, in the final selection process.
What does this mean for the demand generation marketer? It means that whereas communicating business value is vital, campaigns that ignore the personal value of an offer – be it content, a marketing event, even a software demo – will perform less well compared to those that also sell that offer in terms that appeal to the individual, not just the business.
Take a Webinar invitation, for example. Most companies market Webinars in terms of how the information can impact the prospect's business:
"Hear how Customer X used Software Y to increase revenue …"
"Learn how to slash time to market by up to 90 percent …"
and so on. But it's critical to remember that regardless of the business benefit, the success of any demand generation campaign relies equally on a more human appeal to the individual prospect. For example, using terms like "fast-paced" or "information-packed" to describe a Webinar serves to communicate that this will be a 45-minute investment worth making. So does describing the value of the event in terms of professional development ("stay ahead of the curve …", "be amongst the first to discover …").
Yes, it's useful to remember that B2B buyers are people, too. B2B Marketers should avoid the trap of relying exclusively on a laundry list of product benefits, and direct their campaigns to the individual, not simply the business that he or she works for.