By now we've all heard the statistics that as much as two-thirds of all email is opened or read on mobile devices. But no problem – you're using responsive design for all your email campaigns, so you've got that covered, right?
Well, not so fast.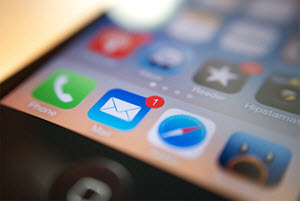 Our firm produces dozens of client email campaigns every month, and for almost all of those clients (mostly B2B technology companies) we use responsive design across the board – for both emails and landing pages – to ensure that campaigns render optimally on mobile devices. However, our production team did some analysis recently and noticed an interesting statistic:
Across a representative sample of client campaigns, representing millions of emails sent, 42 percent of all opens were on mobile devices, but only 19 percent of all clicks were mobile. (For comparison, B2B industry standards are 27 percent opens on mobile, compared to 43 percent for B2C. For the Business Products & Services industry, average percentage of clicks on mobile is only 10%.)
To us, the numbers were not only surprising, but a little alarming. If the email user experience on a mobile device was working as intended, you would expect the proportion of clicks to be the same as opens – that is, if 42 percent of recipients open the emails on a mobile device, then, all things being equal, 42 percent of clicks should occur on mobile also. But the actual rate is only half that, both based on our sample data and industry standards. (The industry ratio is even lower.)
Why is that so? Is it because, as some data suggests, that B2B users scroll through and review email on mobile devices but actually read and engage at their desk? Or is it because responsive design, broadly accepted as "best practice" when it comes to mobile-friendly email, is no longer enough?
The conclusion we're drawing from these statistics is the following:
In order to be successful in a marketplace increasingly dominated by mobile users, B2B email marketers must do more than just implement responsive design in order to ensure a user experience that truly drives engagement.
In other words, simply adapting a desktop campaign to render on a mobile device is no longer enough. We're approaching a tipping point, if we're not there already, where B2B email needs to be a "mobile first" strategy. So what can a B2B marketer do, beyond responsive design? Here are 13 ideas for maximizing your campaign's mobile-friendliness:
1. Offer shorter registration forms for mobile users
2. Provide social sign-on functionality*
3. Offer email fulfillment so mobile users don't have to download large files to their devices.
4. Offer mobile-friendly content (for example, ebooks formatted to read on a mobile device, vs. traditional white papers.)
5. Describe the user experience in the email – make it clear how easy it will be to register, download, view, etc.
6. Always pre-populate landing pages for known contacts and minimize progressive profiling for mobile users.
7. Use drop-down lists or radio boxes vs. text fields on registration forms.
8. Shorten email copy for mobile users.
9. Shorten subject lines for mobile users (to no more than 30 characters vs. 40 characters for desktop).
10. Always include pre-header text to summarize the key message, offer, and call to action.
11. Use larger call-to-action buttons.
12. Consider a "save this offer" or "remind me" call to action so that the user can choose to download the content at a later time.
13. Use anchor links (i.e. providing the user a way to jump back to the top of the email or the top of the registration form.)
*Note: we've tested social sign-on on client campaigns and thus far have seen minimal impact.