Just getting started with lead nurturing? Recently invested in marketing automation software? Concerned that your lead nurturing program isn't everything it should be?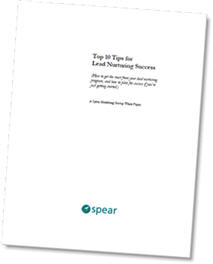 Great lead nurturing starts with more than just software. Learn more in Spear's newest white paper: "Top 10 Tips For Lead Nurturing Success: How to Get the Most From Your Lead Nurturing Program, and How to Plan for Success if You're Just Getting Started."
Inside, you'll discover the secrets to success and core lead management principles that can increase response rates, convert more leads to opportunities, and accelerate the ROI from marketing automation software.
Download your copy of the white paper here.
Note: I'll also be presenting on the same topic at 1:30 PM PST on Tuesday, June 29 as part of the Focus Interactive Summit: Mastering Lead Management, an online event featuring B2B thought leaders like Ardath Albee, Mac McIntosh, and David Raab. Other topics on tap include:
* Scrapping Traditional for Content Marketing
* 10 Best Practices for Lead Generation & Pipeline Acceleration
* Matching a Marketing Automation System to Your Needs
For more information on the summit and to register, click here. Following the presentation at 1:30 PM PST, I'll also be available online for live Q&A.
UPDATE: all sessions from the June 29 event are now available on-demand by following the same link.