There are many things that work well in the Webinar invitation below from Salesforce.com, but one of my favorite elements is the smallest: the link at the top left corner that reads: "View on a PDA." Click and you're linked to a hosted, plain text, narrow-column version of the same message.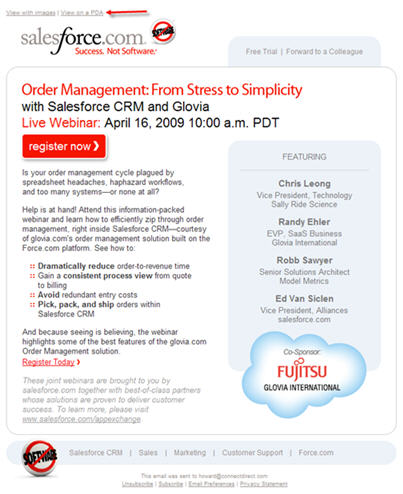 In a recent study, MarketingSherpa reported that 48 percent of technology decision-makers read more than half of their email on their mobile devices. For Salesforce.com, whose customers are primarily sales professionals, that percentage is likely much higher. Reading that statistic, most marketers want to redesign their HTML email so that it's legible on a PDA. The Salesforce campaign showcases a creative alternative: design your email for a desktop email client, but give the Blackberry crowd the option to quickly link to a more PDA-friendly format.
It's standard email marketing practice to always provide a link to a hosted version of your HTML design (for recipients who have images turned off in Outlook or whose email client otherwise won't render the email correctly) but very few companies are taking the extra step of providing a link specifically for PDA users. A trend in the making, perhaps?
Overall, the invitation is a triumph of brevity:
* Concise, compelling lead-in (personally, I wouldn't ask a Yes/No question, but that's a quibble)
* Bulleted benefit copy that sells the offer, not the product
* Call to action repeated twice – once as a button, the second time as text
and a clean design with no gratuitous stock photography or other images to get in the way. My only minor suggestions:
* The PDA version leads with a list of speakers (that I'd need to scroll through) rather than the main selling copy
* Extraneous links ("Free Trial" at top, AppExchange in the body copy, and the navigation bar at bottom) that divert from the main call to action
But overall, a job well done.
For more tips on how to improve the success of your Webinar campaigns, download a free copy of our white paper on "Top 10 Tips for Webinar Invitation Success."