One of the basic rules of good, direct marketing copywriting is that a call to action should always be specific. In other words, it's always better to present the reader with a very precise, preferably tangible reason to respond. So, for example: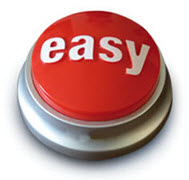 "Click to download our free white paper"
is infinitely preferable to:
"Click to learn more"
and "Call me for a free 10-minute consultation"
is more effective than:
"Call me to discuss how we can help."

The less you put the onus on the reader to decide why he/she should click or call, the better. Conversely, the more the reader is forced to decide or ponder the reason or topic for that click or call, the greater the likelihood of hesitation. As the saying goes, he who hesitates is lost.
I was reminded of this principle earlier today when a colleague forwarded an email received from a inside sales representative at a technology company looking to partner with our agency. We get bombarded by these emails every day, and my colleague had been ignoring this particular rep steadily, until he received this email (company name omitted):
Subject Line: Should I Stay or Should I Go?

Hey Dan,

I know you're busy. Just give me a 1, 2 or 3 –

1. We'll pass on partnering with [Company Name] for the time being, thanks for the offer!
2. We're interested in [Company Name], but it's not a good time, reach back out to me in a month.
3. I'm interested – let's talk!

Thanks!
What I like so much about this email, besides its brevity and the catchy subject line, is how easy the rep has made it to respond. Just choose 1, 2, or 3. That's it. The rep may not have received the answer he was looking for (we already partner with a couple of companies in his space), but he generated action. And dialog. And that's what a good email is designed to do.