Research company TrustRadius just published their new edition of the "Buyer's Guide to Marketing Automation Software," and it's a doozy.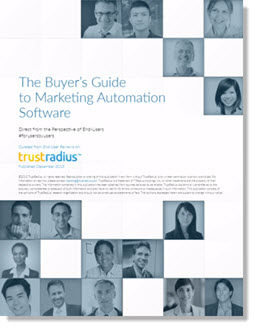 Let's face it, most martech "guides" are written by, well, marketers, and are either sponsored by or authored by the technology vendors themselves, so the content needs to be read with a critical eye. As an independent research company, TrustRadius bases their content on in-depth user reviews and takes pains to maintain both credibility and transparency in the way they rate, score, and evaluate business technology. At a whopping 107 pages, their new marketing automation guide provides what I think is one of the most useful and comprehensive reports to date on this fast-moving category. You can download a free copy (registration required) from the TrustRadius Website.
Core to the new guide are detailed profiles of 20 marketing automation tools, plus ratings (based on more than 1,600 authenticated user reviews), pros and cons, customer demographics, and responses from the vendors themselves. (Incidentally, some of the most interesting reading is seeing how each vendor responded to critiques of its product.) And, as we marketers like to say, there's more:
• A primer on marketing automation for those new to the space
• Expert advice from industry thought leaders on how to choose, plan for, and make the most from your marketing automation investment
• A discussion of key trends and forecasts for the marketing automation space heading into 2016
plus what TrustRadius calls TrustMaps™ – showing the top-rated marketing automation tools for small, mid-sized, and enterprise companies. (Teaser: only one vendor was top-rated in all three categories.)
Whether you're a marketing automation newbie or a hardened veteran, the guide offers useful information and insightful reading. For those planning the leap into marketing automation (or perhaps just contemplating a platform switch), this might just be the only guide you need.