It's that time of year again, and B2B marketers everywhere are dusting off the usual holiday clichés in an attempt to weave good cheer into their demand generation campaigns.
Take the email campaign below from security vendor Symantec. Sure, they can be forgiven the holiday theme (gift boxes, fir trees, snowflakes and all) – their solution does ostensibly help online merchants increase sales during this busiest time of the year. What's less excusable is the way that the email is a confused mash-up of a content offer combined with copy that does precious little to sell that content.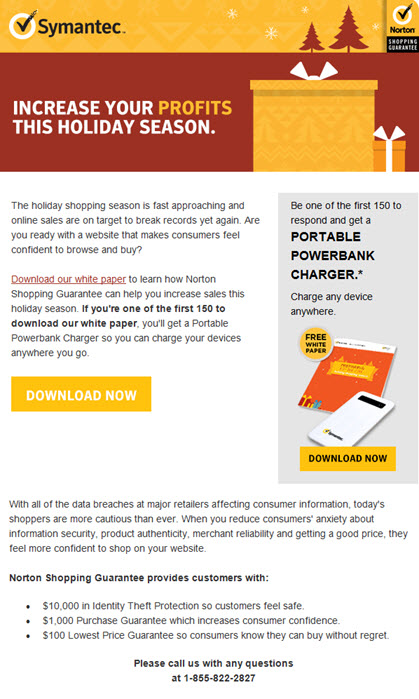 One of my favorite lead generation mantras is this (repeat after me): Sell the Offer, Not the Product. If your offer is a Webinar, sell the value of that event. If your offer is a White Paper, convince the reader why that white paper is worth the read. The goal of good content marketing is to get the reader to request/download/register for/engage with that content – nothing less, nothing more. And in an email, anything that diverts from that single purpose will detract from the effectiveness of the campaign.
In the Symantec campaign, the value of the white paper is (apparently) learning why you need to buy their product, Norton Shopping Guarantee. There's literally no other detail mentioned – nothing about what I'll learn, perhaps about ecommerce trends or security best practices or Web merchandising – that communicates the benefit of downloading the paper. I may as well be asked to download a product brochure.
The problem with a content offer that (for all appearances) is solely about the product is that it will appeal to only that small subset of late-stage prospects already predisposed to buy. It eliminates the much larger universe of potential customers who may have the very challenge/issue/problem that your solution can solve, and want information on how to solve that problem, but aren't yet convinced yet that they need a product to do it for them.
Indeed once you get by the call to action in this email (consolation points to Symantec for including both a text link and a download button), the copy devolves into an unadulterated product pitch. It's a compelling story, but it's a story that does nothing to sell the white paper, only to convince people why they need the product.
An ideal lead generation offer is one that appeals to prospects suffering the pain that your product/service/solution can solve. For all we know, the Symantec white paper may deliver powerful insights on how to reduce customer anxiety, how to increase buyer confidence, etc. – all issues that their solution addresses – but we'll never know, because the email doesn't tell us.
For more tips on email marketing, download a free copy of our white paper "Top 10 B2B Email Marketing Mistakes."