There's a lot to like about the email campaign I received (image below) recently from Infusionsoft, a maker of sales and marketing automation software for small businesses. It's not perfect by any stretch (the copy could use some improvement – more on that later) but many of the techniques on display are simple, straightforward best practices you can easily apply to your next lead generation campaign.
1. Make the offer look like an offer. The free guide on offer is an ebook, a downloadable PDF. It is not – as the offer image might have you believe – a spiral-bound hard copy. Misleading, you say? Perhaps. But on a subconscious level, illustrating the ebook as something tangible and "real" increases the perceived value and makes it stand out in a way that a simple cover image, for example, would not. (Note the additional image at lower left showing charts and graphics.)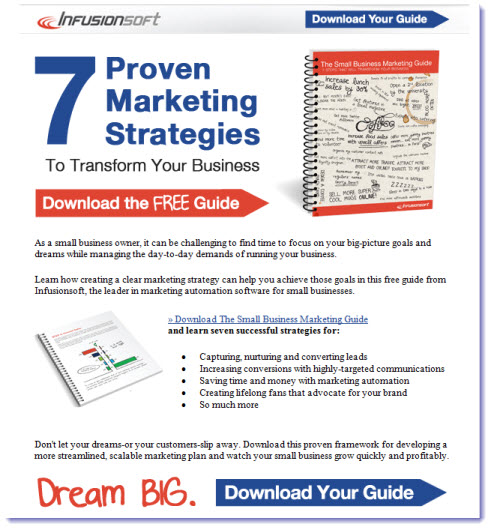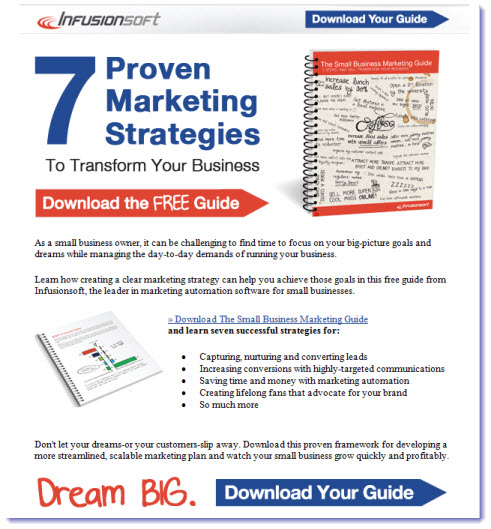 2. Make the reader feel confident he or she is going to learn something specific. The more specific and tangible the benefits of reading the information, the more likely people are to want it. Here, "7 Proven Strategies to Transform Your Business" is clear, concise, and promises immediate value.
3. Repeat the call to action. In a very short space, the call to action (download the guide) is repeated 4 times – 3 times as graphic icons (the subtle arrow connotes action: a nice touch) and once as a text link within the body copy. Yet, at no time do any of the calls to action seem redundant.
4. Fulfill your offer via email. As I wrote previously in this space, sending the prospect the offer via email (vs. a direct link) has numerous benefits, notably that it helps enforce valid email information and makes the offer content more easily accessible at a later date. In Infusionsoft's case, the fulfillment email (see first thumbnail, below) continues the message, theme, and look of the main campaign, and also gives the reader the option of requesting a product demo. (Note to Infusionsoft: I think you meant to say: "complimentary" …)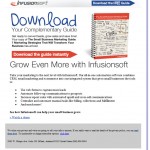 5. Make lead nurturing part of your campaign plan. These days, it's not enough to generate leads and then just throw them into some generic, one-size-fits all, lead follow-up process. Lead nurturing will always be more effective when it's targeted, personalized, and relevant. In this case, the first follow-up email I received upon downloading the guide (see thumbnail at right) reinforces my decision to respond, provides an additional link to the content in case I misplace it, and offers up a "next step" (and the promise of more tips on how to improve my business) in the form of the Infusionsoft newsletter.
What would I change? Well, the copy needs work. In the opening to the first email, Infusionsoft breaks one of the 10 commandments of email copywriting by offering up this cliché:
"As a small business owner, it can be challenging to find time to focus on your big-picture goals and dreams …"
(Yawn.) The campaign would be more impactful if it led immediately into the offer: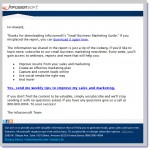 "Learn how creating a clear marketing strategy for your small business can help you achieve your goals and dreams. In a free guide from Infusionsoft, …"
In addition, the bullet points selling the offer could be stronger. "Capturing, nurturing and converting leads" is a compelling topic, but it's not a benefit. It would be better phrased as something like:
"How to capture, nurture, and convert leads more efficiently, with or without sales follow-up"
Still, when so many email campaigns include landing pages, offers, fulfillment, and nurturing emails that were clearly afterthoughts, this is a great example of a cohesive, integrated campaign, planned and designed from start to finish.