Sales experts preach the value of "asking for the sale." Don't assume that your customer will buy when the time is right. Make the time now.
The same rule applies to demand generation creative and to email copywriting in particular. Effective email campaigns are nothing without a compelling call to action and copy that drives action at every opportunity.
For a stark reminder of what an email looks like when you don't drive action adequately, see the campaign below from Verint, a New-York based analytics company. The email reads like a brand manifesto, a commentary on current trends, a description of a new ebook … everything that is, except the one thing it's presumably designed to do: drive response.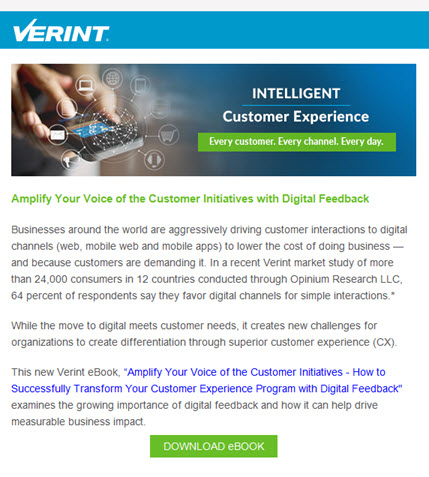 Not one word of this email, until the very last button (Download Ebook), invites the reader to take action. Most of the copy is either a tired recitation of product messaging, or a bland commentary on market trends. Let's highlight the mistakes to avoid:
* the headline (Intelligent Customer Experience) and subhead (Every Customer …) are branding statements. They do nothing to sell the offer, nothing to communicate the value of that offer, nothing to drive action.
* The entire first paragraph ("Businesses around the world …") is a classic and unfortunate example of copy intended to "set up" the offer by describing the trend, problem or opportunity that makes that offer relevant. (I wrote about the perils of "set up paragraphs" at length in this earlier post.) Here, however, it's just a lengthy recitation of fact. Why do I need to know all this? Why would I read further? Even the second paragraph ("While the move to digital …") is more of the same marketing-babble.
* When the writer eventually gets to the actual offer (Paragraph 3), the copy is simply a description, almost as if it were an abstract for a user conference. The ebook sounds interesting, but there's nothing here that's telling the reader to request it. Simply changing this paragraph to begin: "Download the new Verint ebook …" would probably do wonders for click-through rates, assuming the reader hasn't already abandoned ship.
Remember: when it comes to driving email engagement, a call to action should appear both early and often. In other words: ask for the sale. You'll be amazed at the difference it makes.
For more tips on email copywriting, check out our infographic (no registration required): "29 Tips to Improve B2B Email Campaign Performance."