Demand Gen Report has published the results of this year's "B2B Buyer's Survey," and the trends identified merit close attention for those marketers involved in B2B demand generation and content development.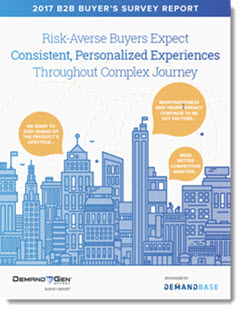 This year's report (download a copy here – registration required) is striking in the degree and pace of change reported, since only last year, in how B2B buyers describe their research and purchase processes. Here are just some of the key findings, along with what I believe these trends mean for demand generation marketers:
FINDING: 59% of respondents say they now have formal buying groups or buying committees in place to review purchases
IMPACT: Use ABM strategies to deliver personalized, relevant content to specific buying roles within large accounts
FINDING: 77% of respondents said they conduct a detailed ROI analysis before making a final decision – an 11% increase from 2016
IMPACT: Ensure that your content library includes relevant late stage content that proves demonstrable ROI (ex: ROI calculators, ROI white papers, case studies)
FINDING: 89% of respondents stated that winning vendors provided content that made it easier to show ROI and/or build a business case for the purchase
IMPACT: It may feel self-serving or even disingenuous to create content that explicitly provides a business case for buying your product. But that's exactly the kind of information buyers want.
FINDING: 72% of respondents said that the timeliness of a vendor's response to inquiries was a significant factor in selecting a winning solution
IMPACT: Leverage marketing automation (through autoresponders, sales alerts, and other functionality) to ensure that all buyer inquiries are responded to promptly and systematically
FINDING: 80% of buyers ranked deployment/ease of use as very important; compared to 75% who said the same of pricing
IMPACT: "Risk mitigation" is a major theme in this year's survey; content that promotes ease of use creates buyer confidence and can put your solution in the driver's seat
FINDING: 63% of respondents said they noticed ads from the solution provider they chose during the research phase
IMPACT: Use retargeting ads not only to generate net new leads, but also to maintain awareness throughout the buying cycle; expand lead nurturing "beyond the inbox" to include ads on platforms like LinkedIn
FINDING: 67% of B2B buyers agreed that they relied more on peer recommendations when making a final purchase decision (24% "strongly agreed" compared to only 12% in 2016)
IMPACT: Find creative ways to source, and leverage, reviews and recommendations for your product; for example: TechValidate, a "customer content creation platform" that helps companies generate fact-based case studies and other customer evidence for use in marketing.
The 7th Annual B2B Buyer's Survey polled 283 B2B C-level executives, VPs and Directors and is published by Demand Gen Report. To download a free copy of the 2017 survey report, click here.