According to various industry statistics, a large percentage of consumer search activity is related to location. By one account, more than 97 percent of all consumers use the Internet when researching products or services in their local area, of whom 90 percent use search engines.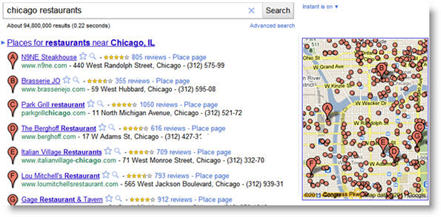 If, like me, you're one of those consumers who googles anything and everything, you'll be intimately familiar with search results on Google Maps (image at right), generated whenever your search query includes a location, such as "Chicago restaurants" or "Seattle dry cleaners". What you may also have noticed is that the business listings that comprise those search results vary widely in depth and amount of information provided.
And therein lies a way that, as a marketer, you can help give your favorite local businesses a leg up in the Internet marketing department. At no cost to them.
By way of illustration, a short story:
I went searching for a frame shop in our small town lately and when I found the listing of a business I remembered using previously, the listing didn't include hours of operation, forcing me to make a phone call to find out. The store was indeed open that afternoon, so when I walked in the door 15 minutes later I took a printout of the search results and this gentleman's business listing and explained the following:
Google calls the listing that appears in local search results a "Places Page." Think of that page as your Google business listing. You might have your own Website also, but when people look for your kind of business locally, they're more likely to come to your Places Page first. And you can populate that Places Page with a lot of information, including:
• details about your business/products/services
• photos and videos
• hours of operation
• a link to your Website (if you have one)
• directions and how to find parking
• customer reviews
• recent updates about your business
• coupons (that customers can either print or use via their mobile phone)
And it's all completely free.
How to get started? Just find your Places Page on Google and click the link at top right that says "Business Owner?" You'll be asked to verify your identity by phone or mail, at which point you can edit the information on the page and provide potential customers more reasons to choose your business instead of the other guy.

What's the catch? None, really. Google wants Places Pages to be more complete in order to provide users a better search experience. Local advertising is a big deal these days (see Groupon, LivingSocial et al), and Google wants to be the leader in local search.
Businesses who verify their Places Page also get some valuable information about how people search for their business, information that's also free of charge. Through the Google Places dashboard, business owners can track how many people searched for their business, which keywords or search queries were used most frequently, even what zip codes searchers come from.
Times are tough for small businesses, especially retail. Do your part as a civic-minded marketer and help your local shops increase their visibility online.
[Disclaimer: Google is a Spear Marketing Group client. Google was neither involved in, nor consulted for, this article. The views expressed are entirely those of the author.]