According to business information provider ZoomInfo (see graphic below, further data here), more than 70 percent of business cards have one or more changes during a 12-month period. The most common changes (in order): job function, phone number, and mailing address. Even while fewer than 30 percent of contacts on average actually change companies (your numbers may be higher depending on the industries you serve, or even target geographies), one thing is certain: the data you have in your CRM database on an individual customer or prospect is likely to be outdated after a mere 12 months.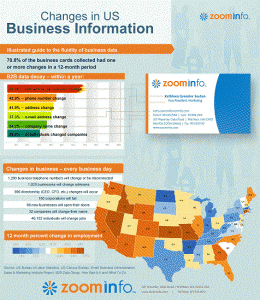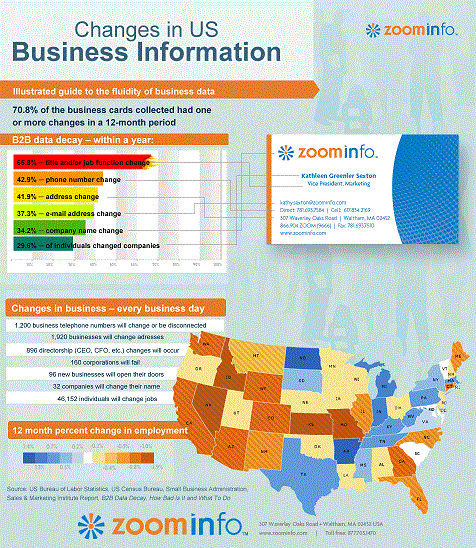 Most commonly, companies looking to clean up CRM data turn to database providers like ZoomInfo, Data.com, and InsideView to append and replace outdated contact information. And whereas these services have value, no one provider has 100% coverage (meaning some contact data will go stale, regardless). In addition, when contacts change companies, it becomes more of a challenge to "connect" (and thus replace) the old contact with that same individual at his/her new place of employment.
One of the surest ways to maintain good database hygiene is to provide contacts an incentive to update their own personal information. That incentive is good content. The better your content, and the more frequently you engage your database with emails that are insightful, relevant, and useful, the better the chance those individuals will want to continue to receive that information in the future. You can further encourage your "subscribers" to keep their information current by:
• Using pre-populated landing pages. If contacts are presented with a pre-filled registration form containing their own contact data, it guarantees two things: 1) a higher conversion rate, and 2) that those same contacts will be more likely to correct any outdated information.
• Asking subscribers what information they want to receive. On a regular (say, annual) basis, use subscription management techniques to encourage contacts to identify their interests. Not only will this enable you to better segment your campaigns and deliver more relevant information to the right people, but it also provides a handy excuse to ensure the contact information you currently have on file is still current.