Most B2B marketing benchmark reports are completely useless. That's because either 1) the results were generated through surveys, which (as any reputable statistician will tell you) causes all sorts of data bias, and/or 2) the data fails to account for the wide variance caused by differences in offer (e.g. webinars vs. ebooks), product category, and target market.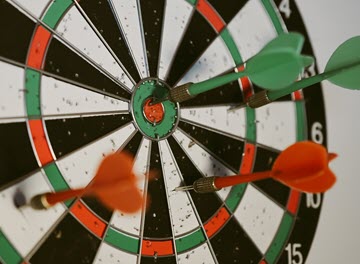 So, when I find a benchmark report that is both credible and useful, it stands out. Enter the good people at Metadata.io, who analyzed nearly $15 million in customer ad spend on LinkedIn and Facebook to generate a compelling benchmark report covering everything from click-through rate (CTR) to cost per lead (CPL).
Side note: this is a perfect example of a SaaS company leveraging aggregate client data to generate meaningful content for marketing. Security companies do this all the time with so-called "threat reports." More SaaS companies should do the same. They're missing a huge opportunity to produce a type of content (peer comparison) that prospects love, content that can be sliced and diced a million ways (think blog posts, ebooks, infographics, Webinars), and can also be leveraged across demand generation, social media, PR and more. But I digress …

The Metadata.io report is more than just a useful vehicle for benchmarking the performance of your own campaigns. It also uncovers some eye-opening statistics about what's working – and what's not – on paid social. For example:

* Longer ads work better on Facebook, shorter ads on LinkedIn
* CPCs for video are lower than images, but images outperform on most other metrics
* Photos of real people generate higher click-through and lower CPLs vs. other images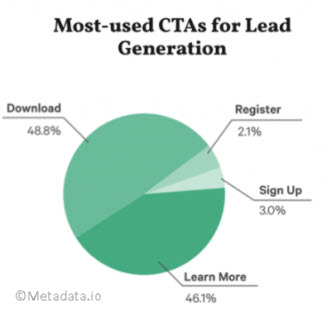 The statistic that most caught my eye, however, is the one illustrated at left. It shows the most common calls to action (CTAs) used in LinkedIn ads designed for lead generation.
More than 46% – almost half – of lead gen ads on LinkedIn use "Learn More" as the CTA. (For brand awareness ads, the number is even higher: 79.9%.)
I've preached this particular sermon multiple times in this space, but again, for the record:
"Learn More" is the worst lead generation CTA ever.
Why? Because it means nothing. What happens when I click on a "Learn More" button? Am I taken to a form? A Website? Will a rep contact me? Am I signing up for a demo? Sorry, no idea.

An effective lead generation CTA is both specific and tangible. Specific in the sense that the reader knows exactly what they're being asked to do (Register, Download, View). Tangible in the sense that the reader knows exactly what they're getting (Webinar, Ebook, Infographic). Anything less, and either the reader won't click (because he/she doesn't know what's coming) or won't convert (because the destination didn't meet expectations.)
Why 46 Percent of LinkedIn Ads Fail
Click To Tweet
Per Metadata.io: "(When using Learn More) be careful to set clear expectations. It could feel like bait and switch if you make people fill out a form." Well, exactly. "Learn More" sets no expectations whatsoever. It makes your CTA a complete mystery.
If you want LinkedIn ads to work, tell the readers what you're asking them to do, and what they get for their trouble. Anything less is a recipe for failure.
Download the B2B Paid Social Benchmark Report link from Metadata.io here: https://metadata.io/b2b-paid-social-benchmark-data/
Photo by Afif Kusuma on Unsplash