While there's little debate about the value of a well-planned, well-executed Account-Based Marketing (ABM) strategy, where many B2B companies struggle – and where ABM initiatives tend to stall – is in that phase between planning and execution, where strategy and account planning meet tactics, plays and content.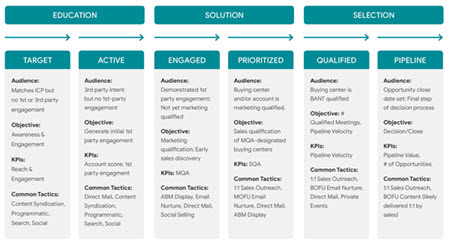 As a tool to help companies execute and operationalize ABM, Spear Marketing Group developed the Opportunity-Based Marketing Framework, a proprietary model based on the SiriusDecisions Demand Unit Waterfall™ that works for both lead-based and account-based strategies.
The OBM Framework (see graphic) provides a straightforward approach to ABM execution by helping companies 1) determine the appropriate channels and tactics for different stages in the buying cycle, and 2) demonstrate the value generated from an ABM investment.
An Opportunity-Based Marketing Framework for #ABM
Click To Tweet
The framework is dynamic, rather than static, in that it conforms to multistage buyer and customer journeys. Acknowledging that no set of assumptions works for every company, it also adapts and evolves based on a marketing organization's ABM maturity level, stage of digital transformation, audience and business model.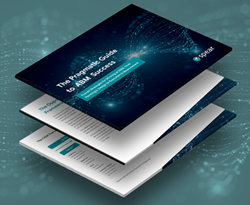 B2B marketers can use the OBM framework to plot ABM strategy from the ground up, to scale an existing initiative, or to kickstart an ABM plan into execution. Most critically, it defines appropriate KPIs for each phase in the buying cycle, establishing clear and consensus benchmarks for success.
"Most of the B2B companies we talk to have already dipped their toes into the ABM waters," comments Tom Meriam, Spear's Vice President of Business Development. "Now that ABM has been around for a while, the most common question we hear as an ABM service provider isn't "How do we get started?" but rather "How do we operationalize?" We created the OBM Framework as a tool to help facilitate and guide those engagements."
For a complete description of the Opportunity-Based Framework, including stage definitions, suggested tactics, and sample ROI calculations based on stage-appropriate metrics, download a copy of Spear's ebook: "The Pragmatic Guide to ABM Success."