You could make the case, as I will, that of all the new technologies to enter the marketing technology landscape of late, the two with the potential to have the biggest short-term impact for B2B marketers are Predictive Analytics and Programmatic Ad Buying. Both leverage the power of Big Data, and both offer the ability to dramatically change the way that B2B marketers target, segment, and engage with prospective buyers.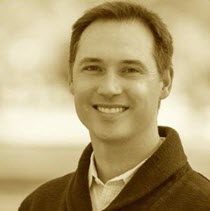 A few weeks ago in this space I talked to Brian Kardon of Lattice Engines about the predictive category, and now I thought it time to explore programmatic. For insight, I turned to Andrew Fischer, a seasoned entrepreneur in both digital media and enterprise software and currently CEO and Co-Founder at Choozle, a Denver-based start-up making waves with their "simple end-to-end digital marketing platform."
(HS) Hi Andrew. Let's start with a definition. What do people mean by "programmatic ad buying"?

(AF) Simply put, programmatic ad buying is the automation of media buying and selling. The traditional media ecosystem – one characterized by vast operational complexity and superfluous middlemen – has been ripe for both disruption and what the analysts call "disintermediation." Programmatic buying removes those complexities and middlemen, and then leverages data to allow both marketers and their agencies to more efficiently apply advertising dollars on scalable, yet highly targeted campaigns.
(HS) I remember back in 2012 when companies like Demandbase and Bizo (now part of LinkedIn) first announced "company targeted advertising." How has the landscape in display advertising changed in the last 3 years?

(AF) In addition to company-based advertising (typically via some form of IP tracking), more and more B2B companies are using other forms of programmatic advertising to generate demand. For example, using a programmatic platform like Choozle, a marketing manager could very quickly set up and deploy dozens of campaigns across multiple channels (social, display, video, etc.) and each one of those channels could utilize a variety of targeting elements – for example:
• retargeting via Web data
• Web-based "nurturing" via uploaded CRM records
• so-called "lookalike" audience targeting modeled on a marketer's own customer base or top prospects
• audience creation leveraging third party data sources
• contextual targeting
or some combination of all these angles. Today's programmatic solutions enable B2B marketers to test and evaluate multiple digital channels at a scale, and with an efficiency, that's simply never been available.
(HS) Historically, online display advertising has historically been a low-priority option for B2B marketers because the numbers (cost vs. return) rarely pencil out. Now that banner ads can be deployed so much more intelligently, do you see display advertising making a comeback in B2B circles?

(AF) Absolutely, yes. For example, Real-Time-Bidding (RTB) has made the execution of display advertising more market-based, and thus much more appealing to B2B marketers looking to generate demand more efficiently. I call it the "Searchifcation" of display advertising. Those who leverage programmatic technologies to "learn and test" will invariably identify strategies that are both effective and scalable.
(HS) You describe Choozle as the "world's most intuitive and effective digital marketing platform". What makes you different from some of the other players in this category?

(AF) At Choozle, our strength is visualizing data – what we call "insights" – and then making it very simple to apply those learnings into campaigns, all from a single interface. Until now, most companies would need to leverage multiple disparate platforms to achieve this core functionality. Secondly, other platforms are often incredibly complex. Choozle's platform is designed to be run in-house, whether by a brand or agency.
(HS) I have this pet theory that Google will inevitably offer demographically targeted search advertising in the not too distant future. (Imagine a "premium" AdWords option where the only people who see your search ad are those who meet a specific demographic profile.) What would it mean to a company like Choozle if Google veered into this space in a more meaningful way?

(AF) Firstly, I'm not convinced that Google doesn't already include factors like demographics in its algorithms. But as far as advertising and ad tech go, I see it broken into two spheres: Google and The Rest of The World. Although we all directly and indirectly compete with Google on some level, Choozle is focused on creating unique value on our side of the world. If Google enters a space, it's always a huge validation to the market, as they focus only on giant market opportunities. For now, however, I hope they focus more on driverless cars.
(HS) Thanks Andrew!