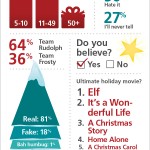 Like any company this time of year, when we send out holiday cards to customers, friends, and partners we hope to show our appreciation to the people that make our work possible and also spread a little cheer along the way. But never did we expect our card to be described as "Best B2B Holiday Card of the Year." Says Matt Heinz of Heinz Marketing on his blog:
"Brilliant effort from Howard Sewell and the team at Spear Marketing. Funny, buzz-worthy, and a call to action to boot."
In case you didn't make the Spear mailing list this year (sorry about that), you can still view the holiday card here. Also, check out the companion holiday survey (the call to action that Matt references) on the Spear Facebook page (look for the link in the sidebar)
Happy Holidays from everyone at Spear Marketing Group!
Special shout out to Spear Art Director Laura McInerney, Creative Director Gilda Raczkowski, and Writer/Social Media Gadfly Meg Barankin for their brilliant ideas and hard work. Great job everyone!