If you've ever received a notice of package delivery via Facebook Messenger, or resolved a technical issue with your cell phone via online chat, you'll know that messaging, chat, and real-time communication are already huge trends in the way that B2C companies communicate with customers, and, in turn, the way that consumers prefer to communicate with brands.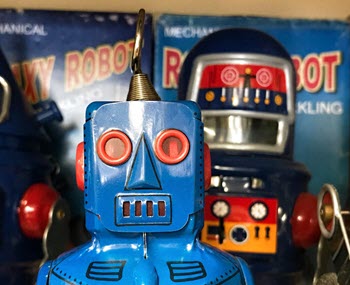 Like so many other trends that first take root in the consumer realm, B2B companies are starting to take note, to the point where chatbots – programs designed to simulate (and stimulate) conversation with online users – are being heralded as the "next big thing" in B2B marketing.
Confession: I was a chatbot skeptic. One, because I'm generally wary of any technology that promises to "revolutionize" B2B marketing, and two, because I struggled to envision the use case for chatbots beyond customer service and support.
However, the more I learn about chatbots, the more I get excited about their potential for B2B marketing, and demand generation in particular. Martech vendors in the space, notably Drift, are elevating the concept of chatbots to something called "conversational marketing," the notion that chatbots enable B2B marketers to replicate the consumer experience by providing an immediate, real-time, personalized conversation – at scale.
The most common use case quoted for chatbots in a B2B context is increasing the rate at which Web visitors convert to actionable sales leads. Proponents argue that by responding to Web visitors more immediately, in a personalized way, and with a relevant message (based on information already stored in a CRM system, the page the individual is visiting, etc.), engagement rates and sales conversations can increase by an astounding 10X-20X.
One important note – based on this kind of data, some would make the case that chatbots have the potential to replace the traditional registration form. But chatbots aren't going to replace forms any more than Account-Based Marketing (ABM) has replaced funnel-based demand gen. What chatbots do – in the "converting Web visitors" scenario – is provide a more personalized experience, and allow companies to generate engagement from visitors who just might not be ready to fill out a form. They're a complementary technology.
And it's not just about getting more Web visitors to book a meeting with sales. Consider these other possibilities:
* Asking qualifying questions as a way of informing lead scores or preventing unqualified leads from entering the funnel and eating up sales resources
* As part of an ABM strategy or target account campaign, providing a chat experience personalized by company, industry, persona, or even individual contact
* Tailoring conversations to existing customers that drive upsell/cross-sell opportunities, or ask for referrals
* Generating chats in response to a trade show promotion as a way to book qualified meetings at the show
* Inserting chat into a lead nurturing program by triggering relevant conversations with mid-stage (MOFU) prospects exhibiting signs of increased intent
And so on. If you don't know much about chatbots yet, be prepared to abandon the notion of chat as a technology of generic, bland "how can we help you today?" messages. Designed, structured, and managed correctly, today's version is timely, relevant, and hyper-personalized. Virtually any B2B company that wants to accelerate leads through the funnel – from Web visit to sales engagement to close – should be seriously considering chat as a potential addition to its demand generation engine.
Photo by Craig Sybert on Unsplash