Email preview text is that line of copy that appears below the subject line in the recipient's inbox. Preview text renders in different ways depending on the email client (the small screenshot below is from Outlook 2016 on the desktop) but, in many cases – particularly on mobile devices – the preview text can be as prominent as the subject line. Which makes it a vital and necessary component in any B2B marketer's copy deck.
For the reader, preview text provides another layer of information that helps that individual determine which emails to open and which to ignore (or mark as spam.) For the sender, it's an opportunity – beyond the limited real estate afforded by the subject line – to establish relevance, spark interest, and drive engagement. In fact, studies suggest that preview text can increase click-throughs up to 30%.
Here are 5 tips for making the most of preview text copy:
1. Don't ignore it.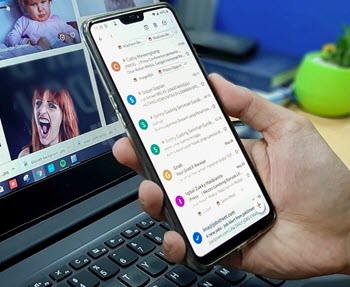 You wouldn't send an email without a subject line, but preview text is fast becoming just as important. Don't leave it blank, don't just repeat or rehash the subject line, and don't waste the space with "To view email in browser …" (That line can be embedded elsewhere in the body copy.) Note: if you do leave preview text blank, many email clients will simply insert the first line from the email itself. It's always better to be intentional and ensure that the two elements work in tandem. Speaking of which:
2. Make sure it works with the subject line.
An effective subject line and preview text work together as a unit in much the same way as a headline and sub-head. They should flow logically and stylistically. If written as wholly independent messages, no matter how compelling individually, the effect to the reader will be confusing at best. There are many options for how to pair the two messages (see #3 and #4, below), but as one option, it might help to think of the preview text as providing a level of detail not afforded by the subject line, for example:
Webinar: Hiring Secrets of the Fortune 500
Hear real-life tips from GE, Apple, and others!

3. What + Why
There are 3 things every reader should know almost immediately in an email:
* What the Offer Is
* Why It's Valuable/Important, and
* How to Get It
It's impossible to fit all of that in any one subject line, but by pairing with preview text, you can get pretty close. For example, use the subject line to describe the offer, and the preview text to deliver a key benefit or two:
New Forrester Report on 2019 B2B Buyer Trends
7 key ways marketers should adapt to today's buyer behavior
or perhaps a call to action:
New Forrester Report on 2019 B2B Buyer Trends
Download the latest expert analysis on today's buyer behavior
5 Tips for More Effective Email Preview Text
Click To Tweet
4. Grab their attention, then back it up.
A subject line is the attention grabber – it's the headline before the headline, if you will. The preview text can then fill in the holes, provide context, and supply additional detail. Or think of them as a comedy team (stay with me on this one), with the preview text as the straight man. The subject line sparks interest with humor or a "teaser," and the preview text says (in effect) "But seriously though, here's what you're going to learn …"
5. Take a chance.
It may seem too risky to test something wild and wooly in the subject line, but the preview text is an opportunity to show off, test something different, or even expand on a conversational tone. In that light, it's a great place to drop in personalization (providing you have the data quality to support it.)
… and finally, a note about character length. In most email clients, a subject line is truncated when it exceeds the viewable length. But preview text doesn't necessarily suffer the same fate – especially on mobile devices – where the text may just wrap onto multiple lines in the inbox. That doesn't mean you shouldn't still strive for efficiency, but whereas most subject lines are truncated at 35-40 characters or less, preview text can be as long as 75 or even 100 characters and may still be visible in its entirety.
A big thank you to Ben, Carolyn, Becky, Hannah and the entire Spear writing team for their contributions to this post.
Photo by Yogas Design on Unsplash