Origami Logic is a marketing analytics company and a global leader in marketing performance measurement. The company's technology helps large brands master their marketing performance by unifying and refining their vast array of marketing data, across every channel and platform, so they can see what's working and what's not.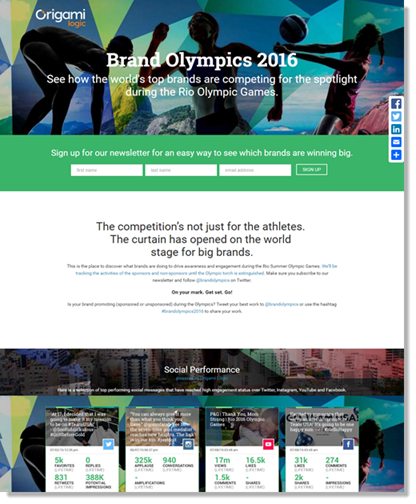 During the Olympics, many global brands run extensive campaigns, sometimes putting a large percentage of their yearly marketing budget towards these efforts. As the leader in cross-channel marketing measurement and optimization, Origami Logic saw an opportunity to showcase the power of their solution to measure the impact and success of these global marketing campaigns.
In coordination with their demand generation agency, Spear Marketing Group, the company developed an integrated marketing program that would measure, and highlight, which brands were executing "gold medal" campaigns.
Throughout the games in Rio, Origami Logic tracks marketing activities by both Olympic sponsors and non-sponsors, and highlights results on a campaign microsite developed by Spear.
The microsite features different marketing campaigns each week, spotlights the brands driving the most engagement on social media, and provides articles, blog posts, and other content that showcases top performing campaigns. Visitors to the microsite can click through to learn more about successful campaigns, engage with social media, and sign up to receive a "Brand Olympics" newsletter. Results are also promoted on Twitter (@brandolympics) and using the hashtag: #BrandOlympics2016.
"The Olympics are a big marketing opportunity for many of our customers and we came to Spear with an idea to create a one-stop resource for data-driven digital marketers during the games. Spear turned that concept into a unique and engaging content marketing campaign that's fully integrated and cross-channel, so that we can interact with our community in a new and compelling way," said Dallas Davidson, Origami Logic's Director of Demand Marketing.
"We wanted the microsite to be as dynamic and engaging as possible," commented Steve Reinhardt, Spear's Web Development Manager. "We used a fixed background to create the illusion of movement as you scroll down the page, and the social "stat" cards are built into an auto-rotating horizontal carousel. The twitter feed section was created using third party software that pulls in twitter data based on hashtag or user account. This kind of "social wall" is also commonly used for events to display live tweets as they posted. The site looks great on mobile devices also, which was a real priority for us."
Origami Logic is driving traffic to the microsite, and awareness for the campaign as a whole, through an integrated online program that includes ads on Google AdWords and LinkedIn.
"We've seen a strong conversion rate on the campaign microsite and 23% of the contacts that have enrolled in the Brand Olympics community are new to Origami," explained Davidson. "Spear's focus on quality design and user experience helped ensure this effort would drive the type of engagement and results we were looking for."