Demand Generation Report just published their 2018 Outlook Guide: The State of Marketing Automation. The guide features insights, projections, and opinions on current challenges, opportunities, and trends from 19 B2B marketing experts and practitioners, including leading executives from Marketo, Oracle, SiriusDecisions, and Forrester Research.
I was honored to be invited to contribute my thoughts as part of the report, reproduced (with permission) below. You can download the entire guide here.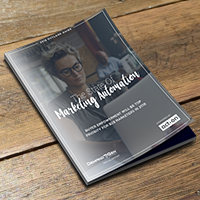 (DGR) What were the biggest changes/challenges for B2B marketers in 2017?
(HS) One of the biggest challenges for B2B marketers right now is simply keeping pace with the changes in marketing technology. Whether it's predictive analytics, ABM, AI, or chatbots, the modern marketer needs to navigate an increasingly technical discipline. Unfortunately, the trend for many firms when it comes to marketing technology seems to be: "buy now, and figure it out later." We saw the same issue when marketing automation first emerged – companies were besotted by the promise of MA, but many failed to achieve that promise because they didn't have the vision, the strategy, or the content in place.
(DGR) What do you see as the biggest trends in marketing automation in 2018?
(HS) I'm really excited about the possibilities for leveraging predictive analytics and big data in marketing automation. If we can display Web content to an online visitor based on that visitor's profile, Web behavior, and predictive intent, why can't we do the same with email? I'd like to be able to schedule an email broadcast or a nurture stream and have each individual recipient receive a different subject line, at a different time of day, based on what predictive data tells us that recipient is most likely to engage with. There's talk already about this capability being on the short-term horizon, and it could be a game-changer.
(DGR) What new opportunities do you see for demand gen and engagement in 2018?
(HS) Marketing is becoming more and more personalized. There are fewer hard and fast rules that apply to all audiences. Some might say: "Video is the best content for demand generation," for example, but the reality (as it's always been) is that different people respond to different messages, and content, and even lead generation channels, in different ways. The real opportunity for B2B marketers in 2018 is to find ways of personalizing the way we deliver content, in a manner that makes it most relevant, timely, and engaging to individual recipients.
To download a copy of the 2018 Outlook Guide: The State of Marketing Automation, click here.