Given the business case on which most Account-Based Marketing (ABM) strategies are founded – namely, that ABM increases opportunities and revenue from high-value accounts – the temptation for marketers is to measure the success of those programs on similar, high-value criteria: namely, opportunities, revenue, and average deal size.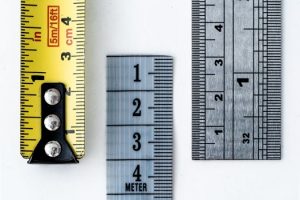 However, relying exclusively, or even primarily, on late-stage KPIs can be problematic, particularly because ABM is most typically employed by companies marketing complex, enterprise solutions with long sales cycles. That means late stage KPIs won't register until potentially weeks or months into the campaign. At the same time, more traditional, early-stage measures like leads or conversions are mostly irrelevant in the context of an account-based strategy.
The simple fact is that there is no, one KPI that works for every ABM strategy, company, or even group of accounts. At our agency, we use the Opportunity-Based Marketing Framework for planning client ABM strategies, including guidelines for measuring ABM success based on two key factors:

* to what extent an account, group of accounts, account "tier" or buying center is aware of the client's company and solution; and
* to what extent those same accounts have demonstrated either intent or engagement.
In sum, the measuring stick for your ABM strategy should reflect where an account or group of accounts is in the buying journey, and how much that account either knows you or has expressed interest in your solution. In practice, this means that you may be employing different KPIs for different accounts, or even for different buying centers within the same account, even if, collectively, those individuals are part of the same overall ABM strategy. In fact, employing multiple KPIs at different stages of the buying journey is key to maintaining a sustainable pipeline.
4 Ways to Measure #ABM Success
Click To Tweet
All that said, here are some of the most common KPIs we see utilized for ABM programs:
Account Engagement
For accounts with little to no awareness of your company, and no record of intent, measuring mere engagement (clicks, page visits) from those companies is a legitimate measure, albeit early stage, of ABM success. For example, you may be able to show that Web visits from your target account list have increased by 50 percent.
Marketing Qualified Accounts (MQAs)
A Marketing Qualified Account, the ABM equivalent of a Marketing Qualified Lead, is an account that attains a certain threshold, normally measured by an account score informed by specific behaviors such as engagement and content consumption. MQA is a useful KPI for mid-stage accounts moving from or to an "engaged" or "prioritized" status. These accounts are aware of your solution and exhibiting specific behaviors at a level indicative of genuine interest. The more accounts reaching MQA status, the better your ABM strategy is working to generate interest from those targeted accounts.
# Opportunities/Pipeline Value/Pipeline Velocity
As stated earlier, KPIs related to pipeline or opportunities will only register late in the buying cycle. Nonetheless, for the right group of accounts or buying centers, measuring the number of opportunities, or the pace at which accounts are moving through the buying cycle, is appropriate and necessary to show real progress and genuine impact at the very latest stages of the decision process.
Average Deal Size
Average Deal Size can be, for many, the "nirvana" of ABM measurement because increasing the average value of a deal, and lifetime customer value, can be the primary reason for deploying an ABM strategy in the first place. Again, because it relies on closed deals, it's a measure that needs both time (typically months) and a statistically significant number of wins before the data tells a defensible story. Nonetheless, as one of the ultimate measures of ABM success, it's a data point that deserves to be considered as part of the mix over the long term.
For a more detailed look at how and where these KPIs best fit, and to learn more about the OBM Framework, see our free ebook: "The Pragmatic Guide to ABM Success."
Photo by William Warby on Unsplash