This month there are, very suddenly, thousands, if not millions of marketing professionals working from home, every day, for the first time. If you're one of those marketers, your company may or may not have the ready infrastructure or culture that supports remote work. And you also may not be blessed with a dedicated work space in the home environment. This article is for you.
At our marketing agency, we've been a largely virtual company since we were founded more than 10 years ago, and during that time, we've learned (sometimes, the hard way) what it takes to make a distributed team function happily and efficiently. Here then, from our team to yours, are some tips, strategies, and best practices for how to make remote work, work.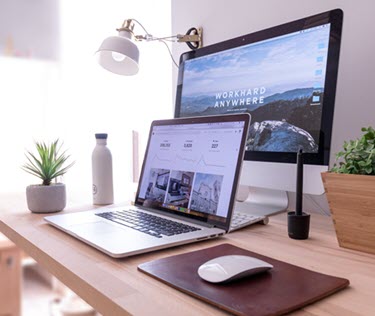 (Tracy, Group Account Director) Have clear signals for family members to indicate when you're working and when you're available for other activities. For example: if the door is closed, do not enter!
(Alex, Account Executive) Along with using your calendar to schedule meetings, consider using it as a way to remind you of tasks that need to get done each day. That way you have a block on your calendar (even if it's just 15-30 minutes) to get something done that no one can schedule over.
(Hana, Group Account Director) Get ready for the day as if you were going into the office. Even on days where you just switch shirts or wash your face, spending time getting ready helps get your mind into "work mode."
(Gina, VP Client Services) My dogs are the worst kept secret at our company, but if I'm going into back-to-back meetings, I always make sure that I've taken them outside beforehand so they don't need a potty break during the call!
(Ben, Creative Director) Invest in a comfortable/ergonomic set up. Working all day on a laptop at the dining room table does not make for good posture.
(Nicholas, Web Developer) Schedule physical activity, whether it's a workout or just stretching. Respect your calendar and when it tells you to do that activity. Making sure that you're staying healthy is critical.
(Alex, Account Executive) Set a routine in the morning that works best for you. Are you the type that likes to check emails and then get the kids out the door and/or get to the gym? Cool. Prefer to get up early, get all your personal stuff done and then sit down at your desk? Great! Experiment with what works best for you and then stick to it.
30 Tips for Work-at-Home Marketers #remotework
Click To Tweet
(Annie, Group Account Director) Buy food that's quick to throw together, because no-one wants to take the time to make a gourmet lunch. Rotisserie chicken, prewashed lettuce and a good dressing makes lunchtime healthy and easy. Also, if you want a snack, put a preset serving in a bowl so you don't eat a whole bag!
(Hana, Group Account Director) Use multiple screens so you're not spending time squinting and switching between a million windows. Also, for ergonomic comfort, make sure the screens are at an appropriate height (the top of the screen should be at eye level.)
(Crystal, Art Director) Don't be afraid to reach out to colleagues or ask a ton of questions about a project or task. Working in a remote environment means not having those natural conversations you would normally have at your desk, in the kitchen, or your morning walks. When you're remote, you have to be a lot more intentional.
(Hana, Group Account Director) Get a good Webcam. A number of us use this one from Logitech. A comfortable headset makes a big difference also. I love my Bose wireless headphones.
(Brandon, Account Executive) I use Magnet, a window manager to keep my workspace organized. It's a necessary application for those (like me) who multitask and are always looking for ways to increase productivity and efficiency.
(Stephen, Operations Director) Leverage services like Zoom and Slack to take video calls whenever possible, instead of phone calls. At home, it can be easy to feel disconnected – being able to visually communicate with your team adds so much more personality and connectedness to the interaction.
(Alex, Account Executive) I love my standing desk. It's quiet, easy to clean, and looks sleek. I try to stand for all my meetings and then sit for work. I also bought a memory foam mat that makes all the difference when you stand.
(Eric, Marketing Automation Specialist) Get the best available internet your area can provide and don't be afraid to pay a bit extra for the fastest connection. There's nothing worse than constantly getting dropped off video calls, especially if you have more client-facing communication.
(Jon, Sales & Marketing Director) Use video calls for everything – inside and outside the company. A large percentage of communication is non-verbal.
(Hana, Group Account Director) Get outside and walk around! Think about your normal office days: you're walking to lunch, stopping by a colleague's desk, driving to and from work. It's easy to get chained to your desk at home and lose that movement.
(Crystal, Art Director) Dress like you're going into the office. It helps both your mood and productivity.
(Eric, Marketing Automation Specialist) If weather permits and you have the space, work outside now and then to change it up. The Vitamin D and fresh air are always good for you. On good weather days, people in video calls will almost always say they'd rather be outside!
(Alex, Account Executive) Make your office a place you want to be. Have a dedicated space for your office and ensure it has everything you need to not only be comfortable but also productive. Add whatever you'd add to your work desk if you were onsite: photos, plants, lights! Being happy in your workspace will help keep you motivated throughout the day.
(Annie, Group Account Director) When you're 100% virtual, you tend to rely on written communication exclusively, which can come across very "dry" … be intentional about using punctuation (!) to soften your communications, and use emojis and GIFs to lighten up the conversations from time to time!
(Tracy, Group Account Director) If you're meeting with clients regularly on video, treat it like an in-person meeting and dress appropriately. (Have a nice shirt/blouse/sweater close at hand that you can throw on in case you have to take a quick video call.)
(Crystal, Art Director) Don't put off making improvements to your workspace. Whether that means getting a second monitor or ordering that ergonomic chair. Take care of YOU first.
(Hana, Group Account Director) Don't feel guilty about taking breaks. You're more productive when your brain is given time to chill out, versus going "heads down" or simply moving from task to task all day.
(Gina, Client Services Director) I'm a fan of my AirPods for conference calls. They're the only wireless buds out there that have sound through the computer in both ears, so if you're running out of juice you can charge one at a time.
(Alex, Account Executive) The hardest part of working from home is work-life balance – there's no getting away from work. Set boundaries on when you're available for meetings and/or answering emails, get outside for breaks and lunch, and shut down at the end of the day.
(Gina, VP Client Services) I use OneTab – it closes all your tabs and keeps them organized in a list so you can open them back up as needed. Having a zillion tabs open is an internet speed killer.
(Stephen, Operations Director) Tools like Slack and Asana help us stay in active contact throughout the day, whether it's executing on projects and tasks, or just sharing jokes, the latest music playlist we're listening to, family photos, etc. Something that's just not possible through email.
(Annie, Group Account Director) Make sure you have a dedicated space for your work. It doesn't need to have a closed door, necessarily, but it should be a place no-one else uses, not the dining room table or a shared desk. And dual monitors are life-changing!
(Tracy, Group Account Director) Don't be afraid to pick up the phone. It seems "old school," but sometimes it's easier to have a conversation on the phone than try to do it via email or Slack, and it helps build relationships.
Photo by Domenico Loia on Unsplash