For the last decade or more, it's been an accepted principle – almost a key tenet – of B2B demand generation that business buyers don't want to talk to a sales rep until the last possible moment.
It's why, for example, we marketers have assumed control for more and more of the lead funnel. There was once a time when we would generate a lead and our job would be done. Now that lead has to be nurtured, educated, scored, enriched, appended and qualified before we would dare hand it off to sales.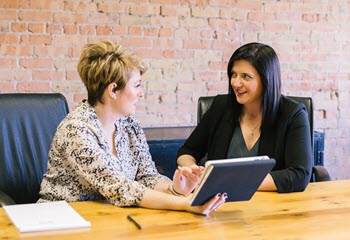 Well, that very basic assumption, that business buyers prefer to be anonymous and self-directed, and uninterested in engaging with sales until they're absolutely ready to buy, may be in question.
Last week, the folks at Demand Gen Report released their "2019 B2B Buyers Survey Report," and one of their key findings, supported by multiple data points, was this:
"Buyers are accelerating the time to engage with sales reps so they can make decisions as quickly – or as slowly – as desired."
For example, 42% of the executives surveyed in the report said that they spoke to and engaged with reps in the first month, compared to only 33% just 12 months earlier.
Report: #B2B Buyers Engaging Earlier with #Sales
Click To Tweet
If this finding is true, and genuinely indicative of a larger trend, it could have major ramifications for the way in which B2B demand marketers manage leads. Now, I'm not about to advocate that we all dismantle our lead nurturing programs and hand off leads to sales at the first opportunity, but there are more incremental steps that companies can take to ensure – if buyers are indeed ready to engage earlier in the process – that they have the opportunity to do so. For example:
* Lead Scoring. How well does your current lead scoring program identify prospects exhibiting signs of buyer intent? Are you capturing Web behavior such as visits to high-value pages? Are you integrating third-party intent data? A highly tuned lead scoring program will help ensure that motivated buyers receive the appropriate attention and don't fall through the proverbial cracks.
* Sales Alerts. How well does your current lead management process alert reps – be they BDRs or field reps – to high-intent behavior? If sales is alerted to virtually any sign of interest on the part of a prospect (say, an email click), those alerts quickly become worthless and duly ignored. Re-evaluate your current system to ensure that there's a hierarchy of alerts – from emails to assigned tasks – that properly align with different types of prospect behavior. For example, at our agency, we use Slack channels to alert specific sales execs when a prospect requests to "contact sales."
* Gated & Secondary Offers. There's a trend in our business towards ungated offers and "reducing friction" in the demand generation process, but I've always argued that gating offers – even in a nurture stream where you already know who the individual is – provides a valuable opportunity to drive additional engagement by serving up what I call "secondary offers."
Secondary offers are calls to action – usually placed on a thank you page or in a fulfillment email – related to the action the prospect just took – as in: thank you for downloading our white paper, here's a recorded Webinar you might like. The notion that prospects are ready to engage more quickly also suggests that late stage offers – ROI calculators, demos, product data sheets, case studies – should be introduced, or at least presented, earlier in the process for those prospects who might be ready to take the next step.
* Conversational Marketing. I wrote very recently in this space about the huge potential for integrating chatbots, and what is being referred to as "conversational marketing," into the demand generation process. Indeed, one of the primary use cases for chatbots is increasing the rate at which Web visitors and other prospects engage with sales. If this buyer behavior trend is true, there's an even stronger case for including chatbots on thank you pages, for example, where they can help to identify more highly motivated prospects, and connect them with a sales rep immediately.
Photo by Amy Hirschi on Unsplash