Without further ado, here are the top 10 most popular blog posts from our blog, "The Point" in 2010 (as measured by page views). Normally, a survey like this might indicate something about hot topics or key trends, but here instead the popularity of the top posts has everything to do with one word: search. Comments after the fold.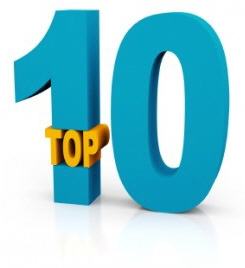 1. 26 Must-Have Negative Keywords for B2B PPC Campaigns
2. 7 Mistakes To Avoid In Your Next Webinar Invitation
3. Salesforce.com Webinar Invitation Gets It Right
4. The First (Almost) Clickable Direct Mail
5. Eloqua's "Juan Eloqua" Campaign: Email Creative at Its Best
6. 21 Tips & Other Impressions from the Marketo User Summit
7. Help Our Client Choose a Logo (Poll)
8. Getting the Most from Salesforce.com: A Conversation with David Taber

9. Blog Makeover Nets Sales Leads for Software Company
10. How to Answer a Question: 5 Tips for Making the Most of LinkedIn
If there's one thing I learned early on as a blogger, it was this: when you title a blog post, don't imagine the reader actually viewing the blog itself. Instead, write the title with Google in mind – that is, imagine that the person is seeing no more than a search result, with no other context – not who you are as the author, what your blog is about, or the content of the actual post. Would that person be motivated to read more? If not, you still have work to do.
I'm reminded of this because of the top 4 posts listed above, one is about PPC advertising, two are about Webinars, and the last is about direct mail: hardly the most cutting-edge topics. In fact, I've written much more in the last 12 months about social media and lead nurturing, yet many of those posts didn't make the cut. What has driven traffic for the top posts listed here – particularly #2 and #3 (on Webinars) – is organic search, and the fact that all have titles that invite interest even if you know nothing more about me or the blog.
The moral of the story is this: if you're looking to increase traffic to your blog, yes: it starts with compelling content, but titling your posts with search in mind can make all the difference. Plus, there's an added benefit to this technique: if you title posts for search, they'll perform well in Twitter for the same reason.