Content Development
Good content is the fuel that feeds effective demand generation. At Spear, we're experts in planning, developing, and repurposing marketing content to drive measurable results.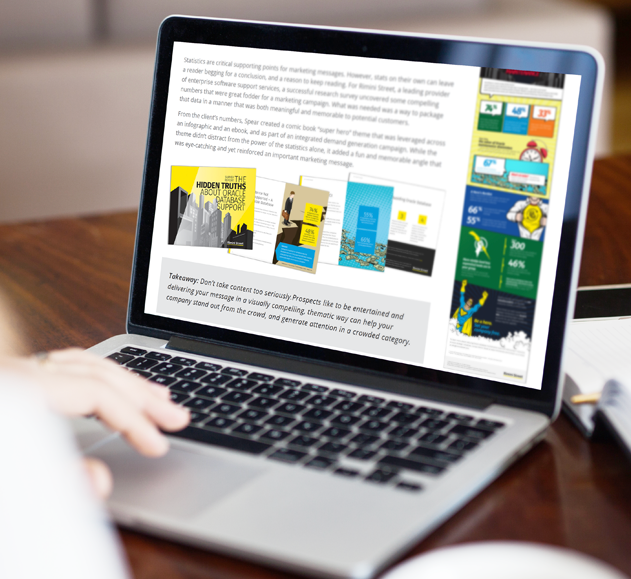 Without good content, even the best-designed, most creative demand generation campaigns are doomed to fail. Demand generation content is unique in that it needs to do more than just tell a story or deliver a compelling message. To be effective, demand generation content must drive action, often before the reader has even read, viewed, or downloaded it.
The demand generation content experts.
At Spear, B2B demand generation is all we do, so we know what works. No matter what type of audience, persona, media channel, or campaign type, we can advise you on the best type of content to generate the results you need. We can help assess your current content library and create a content "map" to identify gaps in content for specific personas, markets, or sales stages. Our team of demand gen specialists is also practiced in developing innovative solutions for maximizing content ROI. Maybe we just need to update an older asset. Or perhaps we create one core asset (say, a white paper) and then repurpose that asset into a Webinar, an infographic, a check list, a slide share, etc.
A one stop shop for all your content development needs.
Our ace creative team has experience in virtually every type of demand generation content:
Blog Posts
Case Studies
Checklists
Data Sheets
Ebooks
Executive Briefs
Infographics
Podcasts
ROI Calculators
Slide Shares
Survey Reports
Video
No matter what your content needs, with Spear you get much more than just expert copywriting and award-winning design. You gain the benefit of a full-service agency that knows first-hand the type of content generating real results for other B2B companies like you.
How to get started.
Need strategic advice on the best content for your next demand generation campaign? Is your in-house design team tapped out? Can't develop content fast enough to keep pace with demand? For a free consultation with one of our demand generation experts, contact us online.