Content Syndication
We deliver the leads you need, at the cost you want to pay. With none of the hassle you'd expect from a content syndication program.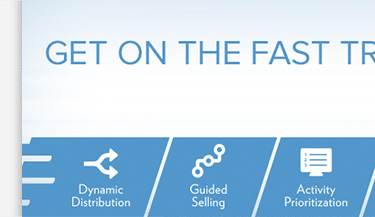 According to industry studies, more than 90 percent of technology buyers consult a white paper or case study before contacting a vendor regarding a purchase.
Content syndication is one of the most cost-effective ways to leverage your investment in white papers, Webcasts, podcasts, case studies, analyst reports, and other informational content by making those documents instantly accessible to millions of technology buyers searching for information related to your category or the business problem that your product solves.
Unfortunately, managing a content syndication program usually means juggling multiple vendor relationships, coordinating uploads of multiple lead feeds (all with different record layouts), and trying in vain to determine which publishers, networks, and content assets are really providing the best value.
Introducing No Risk, No Hassle Content Syndication
Spear offers a turnkey content syndication service — media, creative, program and vendor management, campaign tracking, lead management — that eliminates the risk, vendor hassles, delays in lead delivery, and ongoing management from content syndication. Here's how it works:
Discovery
You tell us how many leads you need, how much you're looking to pay for those leads, and what criteria you need those leads to meet (for example: geography, company size, industry, or even technical criteria such as type of software)
Research
We consult our network of more than 3,000 B2B media partners and negotiate a package of content postings and other promotions that gives you precisely the number of leads you want, from the types of companies you want to talk to, at the cost you want to pay
Execution
We'll manage every facet of the campaign — vendor negotiation, writing abstracts, content placement, verify and validate lead data, and then deliver the leads instantly via an automatic data feed into your CRM or marketing automation system (enabling follow-up by sales much closer to the original inquiry, and therefore: better a conversion rate to opportunities and deals)
Management
Even though we guarantee results, we don't just turn the campaign on and walk away. We'll monitor the program constantly, troubleshooting any issues that arise, and making recommendations to shift budget or swap content as necessary. We provide regular reports on which media venues and which content items are performing best. With a simple connection to your CRM or marketing automation platform, we can even show which leads/publishers/assets are converting to MQLs or opportunities.
Automation
Want more? We'll set up a systematic lead management program that automatically scores, qualifies, and nurtures all inbound leads, only forwarding them to sales when they're deemed "sales ready" (by whatever criteria you define). For leads that don't meet the grade, we'll design custom lead nurturing programs to keep those leads warm until they merit sales follow-up.
Free Consultation & Cost Estimate
Even if you're already using content syndication, we can very likely provide incremental leads at a cost per lead that's competitive with, or better than, your current program. Plus we'll eliminate all the hassle.
If you have a media budget of $10,000 or more, contact Spear today to receive a free cost estimate or discuss your content syndication needs in more detail.
Related Links