Email Marketing
As B2B email marketing experts, we can help your email campaigns stand out, boost opens and click-throughs, and improve the ROI from lead nurturing, event marketing, customer marketing, and other email-based marketing initiatives.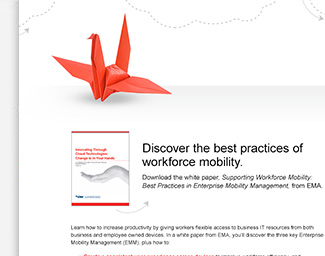 In the last decade, email marketing has had to evolve radically to meet the challenges brought on by a continued proliferation of spam, more stringent privacy laws, and rampant changes in the technology – notably mobile devices – that B2B professionals use to filter, view, and read what arrives in their inbox.
Proven experience at improving email response.
At Spear, we've designed, executed, and managed successful email programs for dozens of B2B clients, campaigns that include Webinar invitations, newsletters, product announcements, lead nurturing, trade show promotion, and much more. Along the way, we've developed a real expertise for the type of language, frequency, segmentation, offer strategy, email design, landing pages, and other elements that add up to a successful campaign.
When you work with Spear, you get much more than a creative agency. Our turnkey approach to email marketing includes:
strategic advice on content, offer, frequency, testing, subject lines, segmentation
expert copywriting by our team of seasoned B2B copywriters
world-class design that reflects both your brand and the latest in best practices (including responsive design)
if needed, complete broadcast coordination using your preferred marketing automation platform or Email Service Provider (ESP), plus detailed tracking, reporting, and ROI analysis
Along the way, we test every email thoroughly we design to ensure that it renders optimally on popular desktop and mobile email clients. And we're constantly testing new ideas, so we already know what's working for other B2B companies like you.
How to get started.
Is your email response not what it should be? We can help. For a complimentary analysis of your current email campaigns, or a cost estimate based on your specific plans, audience, and campaign objectives, contact us online.