B2B Paid Search
Get the most from your search investment by employing Spear's unique, holistic approach to PPC advertising.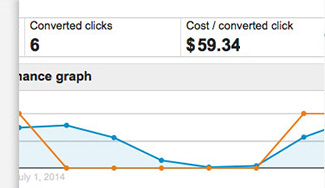 Spear offers comprehensive, turnkey SEM (paid search) services that leverage our unique blend of search experience, cutting-edge demand generation expertise, and creative savvy to make sure you get maximum return from your search budget each and every month.
We believe successful search advertising is more than just mechanics.  Sure, it starts with the right keywords, an efficient bid strategy, and constant maintenance, but what if no-one fills out the form on your landing page?  Or the leads are consistently rejected by sales?  Our search specialists and account team go beyond the usual, tired methods to look at offer strategy, ad copy, and (crucially) landing page optimization in order to increase conversion rates, improve lead quality, cut cost per lead, and maximize campaign ROI.
We help our search clients:

Cut Wasteful Spending
Other vendors focus on driving clicks; we'll optimize your program to deliver quality sales leads at the lowest possible cost.

Increase Lead Volume
We'll give you a clear-cut advantage over competitors' ads by leveraging our proven techniques for ad copy, keyword selection, bid strategy, and landing page design.

Slash Cost Per Lead
Unlike some search consultants, our management fees are based on a fixed rate, not a percentage of your media spend, so we have no incentive for you to spend any more on search than you need to.
Search Engine Marketing should be the workhorse of your demand generation program.  If you're not getting the return you need from search advertising, ask us how we can help.
Free SEM Campaign Analysis
If your organization spends more than $3,000 per month on paid search, contact us to discuss a free 7-point audit of your existing campaign. We'll provide a top-to-bottom evaluation of key success factors, all presented in a concise, executive-style report you can share with key stakeholders. In just a few days, you'll know what you're doing well, where there's opportunity for improvement, and how Spear can help. To learn how to qualify, contact our business development department.