"Chief Marketer 200" is first to highlight best engagement and activation agencies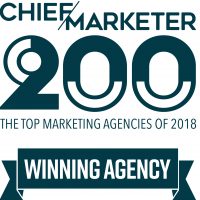 Walnut Creek, Calif. – December 4, 2017. Spear Marketing Group, a leading full-service B2B demand generation agency, has been named to the Chief Marketer 200—the world's first and only comprehensive editorial list of the best non-advertising agencies in the US.
Spear was recognized for a year in which it signed more than forty (40) new clients, and for its cutting-edge work in lead generation, lead nurturing, and digital marketing for B2B clients, including CyberArk, Magnitude Software, and Plantronics. The company made key hires across the board in client services, creative, and technical production, and also forged strategic relationships with leading martech firms, including AutoPilot, Engagio, and Uberflip.
Compiled by Chief Marketer's editors, the Chief Marketer 200 features agencies across 11 different categories, and includes details on each firm, including core capabilities, examples of outstanding work, insights on culture and people, and RFP contact information. The complete list of winners can be found on ChiefMarketer.com.
This is the fourth year in a row that Spear has been recognized by Chief Marketer. From 2015-2017, it was named a "B2B Top Shop" as one of the top B2B agencies in the US.
"We're extremely proud to be named as one of the country's top non-advertising agencies," commented Spear President, Howard J. Sewell. "This recognition is a reflection on all the hard work by our staff throughout the year – not only in driving creativity and innovation in demand generation, but also in producing real results for our clients."
Agencies were named to the Chief Marketer 200 based on several key criteria, including consistent, high caliber work; innovative and creative executions; and bold and inspiring concepts and ideas that are moving the industry forward. Chief Marketer stated that the 200 agencies selected for this year's inaugural program "are thought leaders in their craft and representative of the best of the marketing industry."
Spear is one of very few B2B agencies to combine demand generation strategy, full-service creative, and a deep expertise in marketing technology. Launched in 2009, the firm has quickly grown to be one of the leading agencies in the B2B space. Spear's engagements range from the strategic (Account-based Marketing (ABM), Lead Nurturing) to the tactical (Webinar invitations, digital ad design).
About Spear Marketing Group
Spear Marketing Group is a full-service B2B demand generation agency that helps B2B technology companies generate, nurture, and convert sales leads to revenue. The firm's unique, holistic approach to demand generation blends strategic expertise, creative flair, and a deep understanding of marketing technology to drive measurable results across every stage of the lead lifecycle: lead generation, lead nurturing, and customer marketing. Clients include Magnitude Software, Navicure, and Plantronics. For more information, visit www.spearmarketing.com.
About Chief Marketer
Chief Marketer, an Access Intelligence brand, provides marketers and aspiring CMOs with content, ideas, recognition and events that help them make smarter decisions with their marketing budgets. It offers data-driven industry intelligence, actionable insights, inspiring case studies and the latest technology trends so marketers can improve their campaigns and increase ROI. CM has more than 150,000 readers who rely on its content and live-event resources to help them cut through the noise and find the solutions necessary to optimize their performance. In addition to the Chief Marketer 200, Chief Marketer also produces the PRO Awards and annual training events including Leaders of Brand Activation and B2B Leadscon. Learn more at chiefmarketer.com.